Oil company closer to begin drilling in North Falklands basin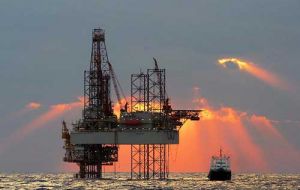 Rockhopper Exploration, the North Falkland Basin explorer announced Monday that Environmental Impact Statement (EIS) documents prepared by RPS Energy in relation to planned future drilling activity have been submitted to the Falkland Islands Government. The EIS's cover licences PL023, PL024, PL032 and PL033.
The Rockhopper Group started trading in February 2004 to invest in and carry out an offshore oil exploration programme to the north of the Falkland Islands.
The Group, floated on AIM in August 2005, is currently the largest licence holder in the North Falkland Basin and has a 100% interest in four offshore production licences which cover approximately 3,800 sq. km.
PL023 and PL024 are in shallow water of less than 200 meters, close to the Islands. PL032 and PL033 are in water depths of less than 550 meters further offshore and were previously licensed to Shell.
According to the company the EIS document has been approved by the Company's geological staff who include David Bodecott (Exploration Director), who is a Member of Petroleum Exploration Society of Great Britain (PESGB) and the American Association of Petroleum Geologists (AAPG) with over 30 years of experience in petroleum exploration and management, for the purpose of the Guidance Note for Mining, Oil and Gas Companies issued by the London Stock Exchange in respect of AIM companies, which outline standards of disclosure for mineral projects.