Peru signalled as only Latam country to slip from recession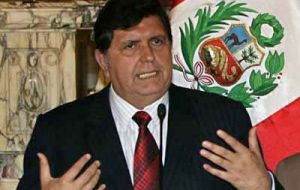 Peru is the only Latin American country likely to escape slipping into recession this year, a senior World Bank official said on Wednesday.
"I think the one that will escape recession is Peru," said Marcelo Giugale, the World Bank's director for Povery Reduction and Economic Management in Latin America and the Caribbean.
For other countries across the region, including Brazil and Chile, Giugale said growth rates were likely to be "so close to zero that whether it's positive or negative will be touch and go."
Earlier in the week Peruvian president called on all economic and social sectors to remain "confident and have faith and certainty" that the country will overcome the global financial crisis.
"We feel we are soldiers in action for Peru. We are willing to give the utmost sacrifice to ensure the country in the next two years keeps and increases all it has gained in 2008", he added
Garcia made the statements during the presentation of the Growth and Employment targets for 2009 and 2010, before an audience of businessmen, politicians, and members of congress, union leaders and the press.
"Peru is well defended domestically and externally to face the consequences of the crisis", emphasized President Garcia.
He called on business leaders to show "determination" in making deals; asked for audacity from investors to keep the rate of work and "speed and good will" from government officials to accelerate the approval of projects, avoiding delays.
But he also asked for "order and social peace" which he described as "vital" for any development project which means jobs and more opportunities.
The Peruvian economy last year expanded at an annual rate of 9.8% and for 2009 is forecasted to grow 5%, possibly the highest in the region boosted by energy and mining projects.