Cristina wants to bring forward mid term elections to June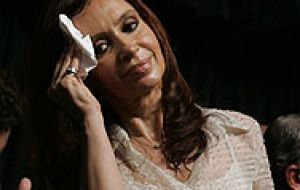 Argentine President Cristina Fernandez announced Friday the presentation next week of a bill to Congress to bring forward mid-term elections to June from October, to let the government focus on fighting economic problems and less on politics.
Critics called it a bald attempt to lock in votes before her political support erodes. Mrs. Kirchner proposal would shift midterm elections up to June 28 from October 25 when voters will elect half the 256-member chamber of deputies and a third of the 72-member Senate.
The elections are a key test for Cristina Fernandez, who has seen her popularity fall steeply since she succeeded her husband, Nestor Kirchner, to the presidency in December 2007. The initiative according to Argentine press sources was decided Thursday evening by Mr. Kirchner, his wife and government political leaders.
"It would practically be suicide to involve Argentines from now until October in a permanent discussion of political positions while the world is falling to pieces," she said in a televised address. Instead of campaigning, government resources should be directed toward "sustaining economic activity and the level of employment."
The global economic crisis has hurt Argentina's soy, meat, corn and wheat exports, draining government coffers of billions of dollars and denting Mrs. Kirchner's popularity. A February poll by the Poliarquia firm showed her with just 29% support. The survey had a sampling error margin of 3 percentage points.
Nearly a dozen lawmakers, with strong leadership, have abandoned Mrs. Kirchner grouping this year, citing political differences, but her Peronist party still has majorities in Congress, which must approve any change in election dates.
"It's an electoral move on the part of the government because they know that as the days pass, they're losing more votes," national opposition lawmaker Jose Arbo told the local news agency Diarios y Noticias.
The bill to modify the electoral calendar needs special majorities in Congress and at this stage it's not certain what can happen in spite of mathematical speculation. This is particularly evident since the growing opposition to the Kirchners has yet to decide on a consensus leadership and there are several hopefuls.