Lula da Silva, Biden and PM Brown confirmed for political summit in Chile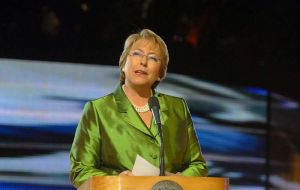 Under the logo "A Progressive response to the global crisis" Chilean president Michelle Bachelet will host next March 27 and 28 a new Progressive Leaders summit to which top international leaders from Africa, Latinamerica, United states and Europe have confirmed their participation.
Heads of state and government linked to Social-democrat, Socialist, Social Christian, Labour, Progressive-Labour and Democrat parties will be meeting to share government experiences, exchange ideas and identify cooperation areas and international coordination.
According to the Chilean presidency web-site, so far the leaders who have confirmed their attendance are Argentina's Cristina Fernandez de Kirchner; Brazil's Lula da Silva; Norway's Prime Minister Jens Stoltenberg and Uruguayan president Tabare Vazquez,
British PM Gordon Brown has also been confirmed since he will be arriving in Chile on an official visit extended by President Bachelet.
United States will be represented by Vice-president Joseph Biden who will also be on an official visit to Chile.
Other personalities include Donald Kaberuka, president of Africa's Development Bank; Alicia Bárcena, executive director for the UN Latam and Caribbean Economic Commission and Jose Miguel Insulza, secretary general of the Organization of American States, OAS.
The worldwide web of Progressive leaders was launched in 1999 and since then has held summits in Berlin, 2000; Stockholm, 2002; London, 2003 and 2008; Budapest, 2004 and Johannesburg 2006.