Argentine squid fleet complains about costs, poor catches and unfair competition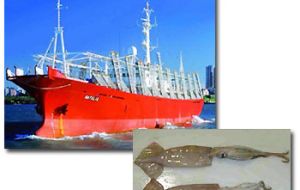 Companies dedicated to squid (Illex argentinus) fishing still find themselves in a critical situation mainly due to an increase in fishing costs, warned this week the head of the Argentine Chamber of Jigger Fishing Vessels Shipowners (CAPA), Fernando Georgiadis.
"Currently only half the jigger fishing fleet is operational because of los profitability of the activity", said the head of CAPA.
"Urgent measures are needed to handle the costs of catching squid. We must remember that the fleet that operates in mile 201 has a big advantage, since the port of Montevideo (Uruguay) costs 80 US dollars less per ton to handle than Mar del Plata and not to mention Patagonian ports" underlined Georgiadis.
He added that mayor of Comodoro Rivadavia, Martin Buzzi, had invited CAPA to consider the possibility that some vessels be allowed to discharge in city's jetties.
But despite the fact that port administrations in Patagonia have reduced their tariffs, the fleet continues choosing the terminal of Mar del Plata (province of Buenos Aires), and on some occasions, Puerto Madryn, he indicated.
Transport costs remain enormous and the national fleet has "a formidable disadvantage compared to the foreign fleet" which can unload its catch in Uruguay at a lower cost per ton, Georgiadis said.
"I explained to Mayor Buzzi that one of the solutions for reactivating the port would be to allow feeder vessels to load the catches, but in the current depressed market situation and a foreign fleet competing practically without costs, there are not too many alternatives" Gerogiadis was quoted in Buenos Aires Cronica daily.
"There are now around 50 jiggers in parallel 44. Squid has grown a bit, specimens of 360 to 400 grams were caught, but the production has dropped significantly, and the average daily catch is 15 tons, half of what was fished last year" he added.
Argentine Coast Guard has reported that fewer foreign flagged jiggers have been sighted operating in the exclusive economic zone (EEZ), compared to previous years.
Captain Gabriel Bello said that "in our patrols, various Argentine fishing vessels were detected between mile 170 and mile 200, but the greater concentration were jiggers targeting squid".
However "a great concentration of foreign flagged vessels, some 85, were sighted between miles 203 and 225, outside the Argentine EEZ", reports Diario de Madryn.
Landings in Argentine ports reached 3.608 tons of squid between January first and March 12, well below the 8.280 tonnes landed in the first two months of 2008, Secretariat of Agriculture, Livestock, Fishery, and Foods (SAGP&A) data shows.
Mar del Plata leads with 1.585 tons of squid followed by Puerto Madryn with 1.354 tons. The Argentine jigger fleet landed 2.055 tons of squid in that period; trawlers, 968 tons and 573 tons by fresh fish vessels. (FIS/MP).-