Bank of England calls for urgent G-20 "joint commitment" on stimulus plans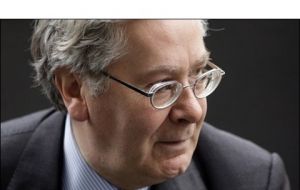 Bank of England Governor Mervyn King has issued a rallying cry for joined-up international efforts to pull the global economy out of a "sudden, severe and simultaneous" downturn.
The Governor said on Tuesday there was an urgent need for a "joint commitment" to economic stimulus plans among all member nations of the G20 group ahead of April's summit.
Mr King told an audience of bankers at the Mansion House in the City of London that the G20 meeting offered an "opportunity and a challenge".
"The occasions on which the words and actions of policy-makers really matter are probably fewer than many of us care to admit. But this is one of them," he said.
Alongside a "collective commitment" to restoring confidence, Mr King added that policymakers had to bring stability to the banking system after a year of crisis.
He signalled that taxpayers should potentially be ready to take even bigger stakes in ailing institutions, adding: "Governments must be prepared to hold whatever proportion of equity capital turns out to be necessary."
The Governor also called for a "clear exit route" for returning banks to the private sector and an overhaul of the global financial system to prevent a repeat of the crisis.
"We need to commit now, while the political will exists, to a process for decisions on long-term reforms in key areas such as bank regulation, reform of the international monetary system and the governance of international financial institutions," he said.
The Governor's comments came on the eve of a fundamental review of financial regulation to be unveiled by Financial Services Authority chairman Lord Turner tomorrow.
Mr King said both light and heavy approaches had "failed to some degree to prevent the accumulation of risks".