Nobel Prize Krugman says US and EU stimulus packages insufficient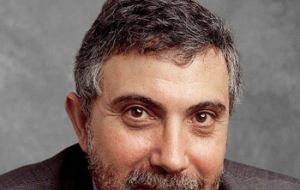 The US economist and Nobel Laureate Paul Krugman said Tuesday that Europe and the United States should at least double their fiscal efforts in order to salvage the global economy.
"The United States is not doing enough to fight the crisis, and Europe is doing a bit less than half as much as the US. So no, it's inadequate" Krugman said after a meeting with EU officials in Brussels.
The talks came just two days before EU leaders were set to meet in the Belgian capital to discuss how to pull the bloc out of recession and reform global capitalism.
US President Barack Obama's economic stimulus package amounts to 787 billion US dollars, equivalent to about 2.5% of the nation's annual GDP, spread over three years.
The EU corresponding efforts total about 400 billion Euros (521 billion US dollars), or 3.3% of GDP, over two years. About half of this amount is made up of so-called "automatic stabilizers" - non- discretionary public spending, such as for unemployment benefits, that naturally increases during a downturn.
According to Krugman, however, both sides of the Atlantic should be looking at stimulus packages worth 4% of annual GDP, or about 600 billion dollars, each year.
"A lot of people berated the Japanese in the 1990s for being too slow and too inadequate, not recognizing the depth of their problems until much too late. We are all doing exactly the same right now," Krugman said.
However EU officials insist this is not the case.
"There is a slight difference between Professor Krugman's opinion and ours," said Guenter Verheugen, the bloc's enterprise and industry commissioner.
"We think it is a little bit too early to judge whether the stimulus packages which we have produced are working or not" Verheugen said. "We are not sure whether it would help just to inject more money into the economy."
Officials in Brussels also note that member states have pledged to avoid spending their way out of recession by running up huge budget deficits.
In a joint letter addressed to the EU Czech presidency and to the European Commission ahead of the summit, French President Nicolas Sarkozy and German Chancellor Angela Merkel also denied any charges of complacency, saying member states have "successfully managed to stem the economic effects of the current global recession."
"The European recovery program supports businesses in mastering the crisis ... it creates new investment, strengthens demand, secures jobs, and provides considerable incentives to revitalize the global economy," Merkel and Sarkozy wrote.
According to a study published in February by the International Monetary Fund, the stimulus efforts of nine of the world's major economies, together with the impact of the automatic stabilizers, will provide "an important boost to growth and help forestall a negative downward spiral."
However, the IMF study also warns that such efforts will in all likelihood not be sufficient to avert a global recession, meaning "further fiscal policy support may be needed".