UK jobless 2.03 million, worst since Labour took power in 1997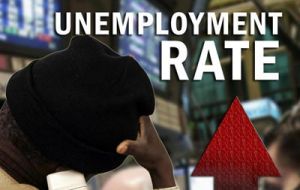 British Prime Minister Gordon Brown has expressed "personal regret" for every person who loses their job - as unemployment surged above the two million mark for the first time in 12 years.
The total number of people out of work, including those not eligible for benefit, jumped by 165,000 in the quarter to January to 2.03 million, (6.5% of the workforce) the worst figure since Labour came to power in the summer of 1997.
The surge in unemployment has taken the rate 0.5% higher than the previous quarter and 1.35% higher compared to last year. In real terms, the number of people unemployed has risen 421,000 in the last year.
The Prime Minister said: "Any person who loses their job or fears losing their job - this is a matter of personal regret for me and for the whole Government."
He told the Commons at Prime Minister's Questions: "I don't regard unemployment as a statistic. I regard it as one person, a second person, a third person, who needs our help.
"And that's why we will do everything we can to help people get back to work, that's why we've announced more apprentices, that's why we've announced more help with training and that's why we've announced that from April there will be help for people who have been unemployed for six months.
"That's why we've put £1.3 billion into the JobCentre, money that is necessary so that we can help hundreds of thousands of people in the next few months get back into work."
Tory leader David Cameron said the unemployment figures proved that it had been "simply nonsense" for the premier to claim Britain was one of the best-placed countries to withstand the recession. But Mr Brown claimed unemployment was worse in most other major economies.
"I came into politics and I stood for Parliament first because I wanted to tackle unemployment and poverty, and that is why we are announcing the most comprehensive programme to help the unemployed," he said.
"But I have to tell him unemployment is higher in France, in Germany, in Japan, in America. It's higher in most of the other countries we are dealing with. But we are taking urgent action to help the unemployed".
David Kern, chief economist at the British Chambers of Commerce (BCC), said: 'The outlook for unemployment is worsening and there is an urgent need for action. At this rate unemployment looks set to reach 3.2 million in 2010.
"There is a vital need for steps specifically aimed at preventing a damaging loss in our industrial skills base and temporary measures such as wage subsidies need to be seriously considered", he added.
The grim picture was also played out in the job vacancy figures, which stood at 482.000 in the three months to February 2009, down 74.000 over the previous quarter and down 203.000 over the year. Again it was another record low since comparable records began in 2001.