Argentina's current account surplus begun downturn in fourth quarter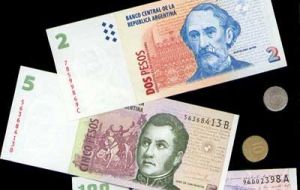 Argentina's fourth-quarter current account surplus shrank 40% from a year earlier to 1.81 billion USD, mainly because of a smaller merchandise trade surplus as the global financial crisis hurt the local economy, the government said on Thursday.
For the full the year however, the current account surplus widened 6.8% to 7.59 billion, compared with 7.10 billion in 2007.
Official data from the country's Statistics Office, INDEC, shows exports fell 6% in the fourth quarter compared with the year-earlier period, while imports rose 1%. Consequently the quarterly trade surplus narrowed 22% to 3.59 billion USD.
Separately, as part of the financial account, capital outflows from the non-financial private sector surged to 3.37 billion in the fourth quarter, compared with outflows of 1.29 billion in the same period of 2007.
This was likely related to the global financial crisis and local economic and political uncertainties, which helped provoke capital flight while pressuring the Argentine peso lower and local interest rates higher.
Capital outflows from the private sector surged to 11.29 billion USD in 2008, compared with inflows of 1.23 billion a year earlier. The annual current account surplus expanded versus 2007, mainly due to a 21% increase in the merchandise trade surplus over the course of the year, says INDEC.
The current account is defined as the broadest measure of a country's foreign transactions, encompassing trade, services and an array of financial flows, including interest payments. Analysts use this data to gauge reliance on foreign capital.