Chilean economy expands 0.2% in fourth quarter and 3.2% in 2008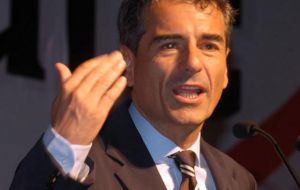 The Chilean economy expanded 0.2% in the last quarter of 2008 closing the year with an overall growth of 3.2%, according to data released by the Central Bank.
The percentages are lower than market expectations which had forecasted 1.1% in the fourth quarter and 3.4% in the twelve month period.
"In quarterly terms, GDP growth spiked during the first three quarters and then slowed down in the fourth, reflecting the impact f the international crisis", said the Central bank. The Chilean economy grew by 4.6% in 2006 and 4.7% in 2007.
Finance minister Andrés Velasco commenting on the latest data said he was very pleased with the performance of the Chilean economy (still growing) and prospects given the current situation,
Addressing business leaders Velasco said the current situation has emerged thanks to the anti-cyclical policies, the solid nature of the financial system, as well as cuts in interest rate and dollar value galvanized by the Central Bank.
"If we consider a table with four legs, Chile has remained stable while other countries have lacked strong legs and have seen the table tip over" said Velasco.
The minister forecasted that the slide in economic activity during the final quarter of 2008 could be indicating a turning point, given the slight increase registered in January.
"In January, there was a slight relative increase when compared to the closing figure of last year, which suggests that these last three months, which have been tough for Chile and tough for the world, could be indicating the end of the slide down which has been followed by the still tepid January bounce back" he underlined.
But Velasco also claimed that further economic data is needed to determine a clear pattern regarding the economy's performance.