Obama plans to visit Mexico April 16 and 17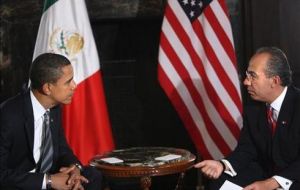 US President Barack Obama has announced he will travel to Mexico next month, making his first trip to that country as president. Mexico's government says President Obama will visit the country on April 16 and 17.
Mr. Obama announced the trip Wednesday during a meeting with members of the Congressional Hispanic Caucus. He and Mexican President Felipe Calderon are expected to discuss a number of issues, including comprehensive immigration reform and the fight against drug-related violence in Mexico.
That violence has spiked across Mexico, with more than 7,000 people killed since last year.
Mr. Obama will be meeting with President Calderon for the second time in two months. The two first met in January, about a week before Mr. Obama was inaugurated.
Secretary of State Hillary Clinton will travel to Mexico from March 25 through 26. Her talks will cover an initiative under which the US is helping Mexico combat violent drug traffickers.
However a more immediate issue could be the trade dispute between neighbors. Mexico on Wednesday announced higher tariffs on 2.4 billion USD worth of imports from the US in retaliation for the Washington's decision to end a program allowing some Mexican trucks on US highways.
The list of 89 products includes toilet paper, Christmas trees, fruit juices, pet food, shampoo, sunflower seeds, soy sauce, pencils, beer and deodorant. The tariffs, listed in the Mexican government's daily record, range from 10% to 45%. Affected products come from 40 states, but represent less than 2% of US exports to Mexico.