Thousands march in Argentina demanding more action against rampant crime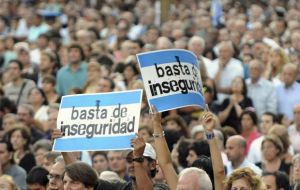 An estimated 10.000 Argentines marched Wednesday evening on the historic Plaza de Mayo in the capital, Buenos Aires to demand more anti-crime measures, reflecting a top priority among Argentines, according to recent polls. The protest was repeated in other marches through out Argentina at the same time.
At least three police officers have been killed in Buenos Aires in recent weeks, and other high-profile crimes have grabbed the nation's attention. An employee of Argentina's most famous TV talk-show host, Susana Gimenez, was killed last month. That prompted Gimenez to call for the return of the death penalty which was supported by several famous television actors.
The death penalty was outlawed in Argentina in 1984 a year after the country's military ended its seven-year dictatorship, during which some 30.000 people were killed so the issue is highly sensitive.
Organizers used the Internet to mobilize people, setting up a Web page asking Congress to declare a national security emergency, and creating a Facebook page for the march. More than 106,000 people signed up as "friends".
The marchers in the Plaza de Mayo, many carrying photos of their dead loved ones, asked their leaders to act against rising crime.
Argentine President Cristina Fernandez de Kirchner has been criticized for not focusing enough on crime. Her Justice minister has defended the government's efforts, saying Argentina has one of the lowest murder rates in South America.
The demonstration against violence in Buenos Aires was headed by Argentine rabbi Sergio Bergman and priest Guillermo Marco from the Buenos Aires Archiepiscopal.
"There is an Argentina and it can be a republic after Nestor" said Bergman, referring to former president Nestor Kirchner.
Kirchner is the husband of current President Cristina Fernandez de Kirchner but it is Nestor who handles the country's public safety, according to Buenos Aires press reports and opposition claims.
"A truly democratic federal republic does not rest on political parties", said Bergman, who has become an increasingly influential political figure. "It is on you to participate, to stop napping and participate" underlined the rabbi.
Bergman is the spiritual leader at the first Argentine synagogue, Libertad Temple.
The Plaza de Mayo, a major tourist attraction in Buenos Aires, is the center of political activism in the Argentine capital.