Mrs. Kirchner corners farmers who take to the roads again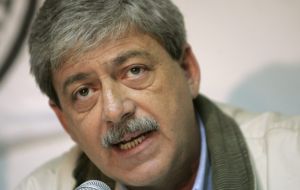 In a further escalation of the conflict with farmers over taxes, Argentine President Cristina Fernandez de Kirchner announced on Thursday that revenue from the levy on soy exports would be shared between the federal, provincial and city governments.
According to the announcement 30% of income levied on soy exports will be deposited in an emergency fund destined for Argentina's 23 provinces. This means an estimated 1.8 billion US dollars annually will be invested to build hospitals, schools, water systems and other infrastructure projects, easing the impact of the world economic crisis, Mrs. Kirchner said during a televised news conference.
The move represents an annual 11% increase in outlays to provinces a year, and was harshly criticized by the opposition that argued it was evidence of the government's attempt to buy support ahead of national elections later this year.
Earlier in the afternoon farmers were unable to muster sufficient votes in Congress to repeal the export taxes as had been planned. A majority of the ruling coalition simply was not present and there was no quorum to address the issue.
Argentina levies a 35% tariff on soy exports, the country's chief cash crop, and lower tariffs on other commodities. But farmers say the levies are strangling production, especially after the worst drought in half a century which they say will slash this year's soy output 20% and corn 45%. The wheat harvest, already in, is nearly half last season's.
The move which will be implemented with a decree thus avoiding Congress, made clear that despite rumors earlier this week of an imminent reduction of levies, the Argentine government has no intention of reducing export tariffs. Mrs. Kirchner acknowledged that tax revenues had fallen and "we have to redouble efforts in times of crisis".
In some parts of the country furious farmers reacted taking again to the roads blocking traffic, echoing protests last year over government plans to raise farm tariffs and which ended with the Senate rejection.
"This is a new declaration of war on the agriculture sector," said opposition Senator Gerardo Morales. "Farmers see this as an attempt to buy the support of cash-strapped provincial governors" some of whom are close to farmers.
"They're putting soy money directly into the campaign," Argentine Agrarian Federation head Eduardo Buzzi was quoted in the Buenos Aires television.
Argentina's Senate will vote next week on another surprise government plan: to bring forward legislative elections to June from October. The vote is expected to be tight and some analysts saw the soy announcement as an attempt to ensure that governors lean on senators for their provinces to back the bill.
Analysts say the government wants to bring forward the elections because the economy is expected to be in far worse shape by October, increasing chances of losing its parliamentary majority. Half the Lower house and a third of Senate seats are on dispute.
A February survey by the Buenos Aires-based polling firm Poliarquia showed 27% of respondents backed her, compared with 50% when she took office in December 2007. The poll had an error margin of 3 percentage points.
Interior Minister Florencio Randazzo said the new soy fund proves the government wants to boost aid programs, rather than collect high export taxes for its own purposes as opponents have claimed.
"It's not about the coffers," Randazzo said, defending the current export tax regime. "It's about increasing and sustaining economic activity and employment".