Uruguay's preliminary farm losses to drought estimated in 450 million USD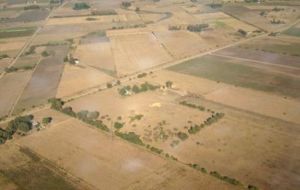 Uruguay lost an estimated 450 million US dollars as a direct consequence of the several months long drought, according to acting Agriculture minister Andres Berterreche. The primary figure revealed during a meeting with business leaders on Thursday represents the equivalent of 1.5% of Uruguay's GDP
Economy minister Alvaro García said "preliminary" drought losses according to the Agriculture Programming and Policy Office, OPYPA, could be estimated between 400 and 450 million US dollars with the major impact suffered by corn and soybean crops.
However García admitted that the "final assessment of losses could be even higher, particularly when estimates become definite numbers, and because of the lesser generation of electricity and water supply".
Uruguay's energy supply is mainly hydroelectric, and when insufficient rainfall the country must appeal to imported fossil fuels.
According to OPYPA, corn, soybeans and fruit were the crops which most suffered, in the range of 25 to 33%, followed by dairy products, 18%; sunflowers, 17%; vegetables, 16%; sorghum, 10% and cattle breeding, 10%.
Berterrech said losses were not only significant from a production point of view, but also because of crop expectations, which were much higher than in 2008 particularly in dairy farming and summer crops.
However the bright side is that extremely dry summer months helped grapes and wine production, wheat yields, (less use of pesticides) and nitrification of pastures following a drought period.
The drought also had a political side with farmers clashing with the Minister of Agriculture Ernesto Agazzi who until late December denied the rainfall shortage arguing it was "farmers' usual summer complaints".
"I bet it would rain over the weekend, but I lost" Minister Agazzi said at Christmas time. And once rains started in mid February solemnly declared the drought "was over".