Argentine, Brazilian businesses agree to fight "Chinese imports"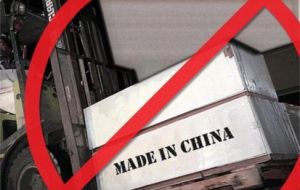 With the master touch of Brazilian diplomacy the Friday regional summit with Argentina not only sent a clear political message of understanding between Mercosur main partners, but also evidence of that close coordination.
During Argentine president Cristina Fernandez de Kirchner visit to Sao Paulo the Brazilian government announced it was prepared to extend a 600 million US dollars credit to Argentina for the purchase of aircrafts for the recently nationalized flag air carrier, Aerolineas Argentinas.
Financing for the operation would come from Brazil's Economic and Social Development Bank and the company to benefit from the future order, Embraer, Brazil's main air industry and one of the world's leading manufacturer of mid range commercial aircrafts.
Furthermore at the business leaders meeting in Sao Paulo, under the eloquent name of "Argentina's Week", two sectors which had been quarrelling reached agreements, foot wear and naval construction.
According to press reports from Sao Paulo Argentine representatives from both industries "were most satisfied with the agreements" signed with their Brazilian counterparts.
"The objective now is to fight against the common evil, Chinese products which are sold at dumping prices" both in Argentina and Brazil.
"With bilateral differences back on the right track, we must address the outside enemy".