Petrobras union threatens with national strike beginning Monday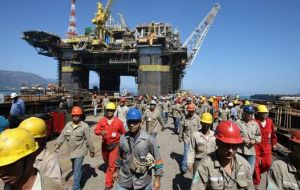 Brazil's government managed oil and gas corporation Petrobras faces a possible nationwide strike by oil workers that could paralyze the company's oil production for five days, starting Monday.
The Brazilian Oil Workers Federation, or FUP, said earlier Friday that workers had approved the five-day walkout in voting along the week. Workers at oil platforms, refineries and distribution terminals plan to go on strike Monday.
"Petrobras and its service companies have reduced workers' rights, as well as declined to advance negotiations with FUP and other unions" union officials said in a statement. FUP is an umbrella union representing Petrobras operational employees across Brazil.
FUP said that the union would not accept "cuts to workers' rights in the name of a crisis in the international financial system, the burden of which companies are shifting to workers."
At the heart of the strike were complaints by FUP that Petrobras had decided to reduce profit-sharing payments after the company recorded record net profits in 2008. According to FUP, Petrobras offered profit-sharing payments lower than the previous four years, despite 2008's record profits.
Petrobras CEO Jose Sergio Gabrielli declined to comment on the strike vote or Gabrielli's meeting with union officials.
Monday's possible strike by FUP members would be the second major work action against Petrobras in nine months.
In July, oil platform workers in Brazil's key Campos Basin walked off the job for five days amid a dispute over work rules. It was the first major strike at Petrobras since 2001.