Princess Anne begins visit to Falkland Islands and South Georgia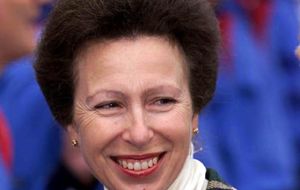 Princess Anne and her husband Vice-Admiral Timothy Laurence arrived Monday in the Falklands for a visit to the Islands and South Georgia. She is travelling to the South Atlantic at the invitation of the South Georgia Heritage Trust, SGHT.
On Tuesday the Princess Royal will be carrying out a number of public engagements including visits to the Royal Falkland Islands Police Station, Fire and Rescue Service Station, Infant Junior and Community Schools, Liberty Lodge, Cape Pembroke Lighthouse and Atlantic Conveyor Memorial.
At the recently inaugurated "Liberty Lodge", the house built to accommodate visiting British Falklands War veterans she will meet members of the South Atlantic Medal Association, SAMA 82, local residents, medical staff and sponsors.
The Princess Royal will also have dinner at Malvina House Hotel with members of the Legislative Assembly and their spouses and visit the historic settlement of Port Louis on East Falklands. Port Louis was established by Louis de Bougainville in 1764 as the first French settlement on the islands.
On March 25th the Princess Royal will travel to Grytviken, South Georgia, on MV Pharos, departing from Mare Harbour the Naval Port near the British Forces Station at Mount Pleasant.
In Grytviken she will officially open the new Hydroelectricity Station and Carr Maritime Gallery. The Princess Royal is patron of South Georgia Heritage Trust.
Princess Anne, ninth in the line to the British throne, last visited the Falkland Islands and South Georgia in January 2007.