Argentina's Catholic Church warns about "altered social peace"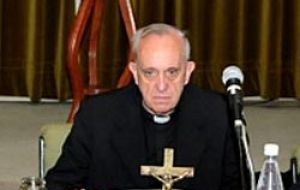 Argentina's influential Catholic Church warned that a year long conflict between the government of President Cristina Fernandez de Kirchner and farmers over export duties has "altered social peace".
The Episcopate spokesperson Bishop Jorge Oesterheid said the conflict is of much concern to bishops who have begun debating about Argentina's situation at the 152nd meeting of the Standing Committee.
"Last year the (Catholic) Church pointed out that is was most concerned that social peace be preserved and now a situation is generating which is becoming most worrisome", said Oesterheid who added "last time we were quite clear when we said that social peace was in danger. I think you just have to look for a few minutes television and see how the country's roads are, to say that yes social peace has effectively been really altered".
On Tuesday picketing farmers, on the fourth of a seven-day grain and cattle sales boycott, were reported to have cut or interrupted traffic in at least 100 of Argentina's main roads.
Farmers affected by a plunge in international grain and oilseed prices due to the global economic crisis and a severe drought are seeking to force the government to lower export duties, something that the administration of Cristina Fernandez de Kirchner is refusing to do alleging that farmers' reaped windfall benefits.
"We are beginning to see strong resentments that are most difficult to overcome with time", added Oesterheld.
Eduardo Buzzi, president of the Argentine Agrarian Federation called on government legislators to ensure Congressional quorum to consider a bill from the opposition which ends with the export levies for small farmers.
Last week the Argentine Lower House did not show up to discuss the review bill and together with a decree announced by Mrs. Kirchner for the sharing with provincial governments of the export levies, triggered the current farm sales boycott and road blocks.