Berlusconi blames world recession on the "American influenza virus"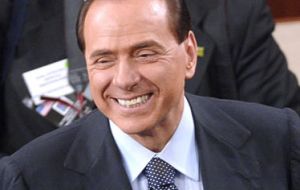 Prime Minister Silvio Berlusconi, taking the controls of a new high-speed train on Tuesday, said Italy was well placed to emerge from the global economic downturn, --which he described as the American influenza--, but urged his countrymen to work harder.
Berlusconi, who donned a train master's hat and posed for cameras in the driving seat of the "Red Arrow", said the crisis originated in the United States but Italy would soon emerge from it thanks to its healthy banks and low personal debt levels.
"This American influenza, this virus arrived from America, has struck a healthy body... We're all trying to get over it with a bit of aspirin," he said.
"We need to have the will to act, to have confidence and to apply ourselves by working harder, perhaps."
Berlusconi's conservative government has unveiled a plan for more public works, including a long-delayed bridge linking Sicily with mainland Italy, plus incentives for construction and support measures for Italian banks.
Critics say only a fraction of the 80 billion Euro package is fresh spending. Most economists expect the economy, saddled with the world's third highest debt, to shrink by more than 3% this year, after a decade in the doldrums.
Berlusconi, a media mogul and Italy's second richest man, has accused the press of exaggerating the extent of the downturn and urged Italians to carry on business as usual.
"It's easier to drive the Red Arrow than to drive the country. Actually, I haven't been on a train for quite a few years," said the 72-year-old billionaire, who usually travels in a government plane or one of his own private jets.
The high-speed service will link the business hub of Milan in northern Italy with Rome in just three hours, reaching speeds of around 300 km an hour. It will compete with a shuttle service offered by former state airline Alitalia, which was privatised in January.