China promises Uruguay expanded trade and investments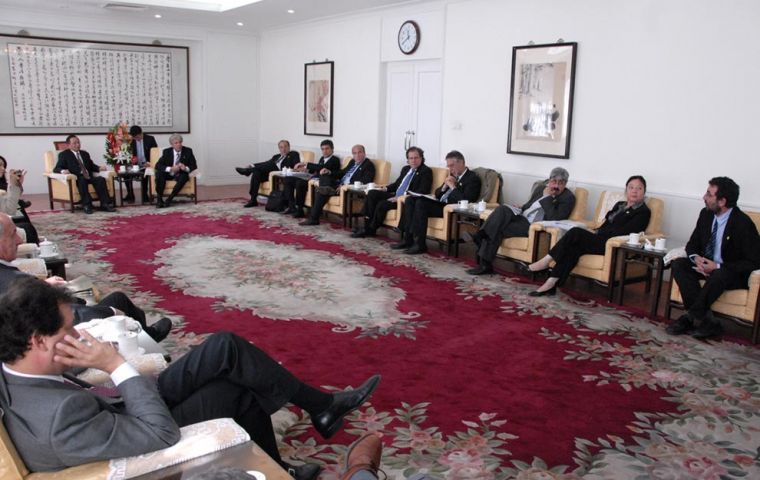 Uruguayan president Tabare Vazquez left China Wednesday with promises of more investments and an increase in purchases of tops, wool, pulp, meat and fisheries, according to reports from the official press released in Beijing.
In the last day of his visit President Vazquez and Economy Minister Alvaro García addressed a forum for Chinese and Uruguayan businessmen organized by the Chinese Council for the promotion of foreign trade.
An estimated 40 Uruguayan companies and 200 from China participated in the business round which included a wide range of sectors: wool, processed food, pulp and wood, automobiles and trucks, telecommunications, mining, fisheries, footwear and services.
Uruguay also made a special presentation of the coming oil and gas round, scheduled for December, when interested parties will be able to participate in the exploration for hydrocarbons in Uruguay's continental shelf. Data collected and analyzed over months of surveying indicates strong possibilities of oil and gas deposits in the area.
"Uruguay is interested in high quality, research investments", pointed out President Vazquez during his speech to the Chinese businessmen.
China praised Uruguay's business atmosphere for investment and expressed interest in infrastructure projects, ports, energy, plus biotechnology and the food industry for which "there is full support from the Chinese banking system".
Bilateral trade between China and Uruguay has soared from 125 million US dollars in 1998 to 1.6 billion USD last year. China has been for years Uruguay's main buyer of wool.
China's State Development and Investment Corporation, SDIC, announced that it will continue to purchase Uruguayan wool and anticipated it was also interested in wood and pulp.
The Chinese auto manufacturer Chery which has an assembly plant in Montevideo reported it had plans to invest 12 million US dollars in retooling for the manufacture of a new model and for vehicles which run on alternative fuels.
Chinatex, a strong buyer of Uruguayan wool alto revealed that it was interested in acquiring Uruguayan soybeans, plus investing in silos and a processing plant in Uruguay.
Huwael Technologies with offices in Montevideo and which specializes in electronics donated equipment worth half a million US dollars. The idea is for the company to become a Uruguayan government supplier and from Montevideo expand to the region.
Finally in the framework of an accord on scientific and technical cooperation China extended Uruguay a loan equivalent to 1.5 million US dollars (with no interests) for the development of different projects in the area. The loan will be managed by China's Development Bank and Uruguay's Central Bank.
Both countries agreed to continue advancing on the double taxing legislation to further help promote trade.
President Vazquez confirmed the support of his government to Uruguay's participation in the Expo-Shanghai 2010.