Bank of England questions "further spending" and deficits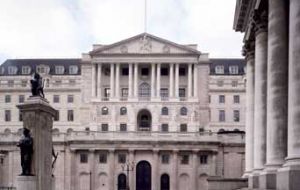 Mervyn King, the governor of the Bank of England, has cautioned against further significant government spending to stimulate the economy. Given the high levels of UK debt as a result of recent stimulus packages, Mr King questioned the wisdom of increasing debt by spending more.
He did, however, say that there was room for further "targeted and selected measures" in some areas of the economy.
The government said there was no rift with Mr King over stimulus action.
Mr King was answering questions from MPs at a Treasury committee.
His comments came as official figures showed a surprise rise in consumer price inflation. This increased to 3.2% in February, from 3% in January, led by the rising cost of imported goods.
Mr King said increasing levels of debt in the face of the economic downturn was the right course of action.
"I think it is right to accept that when the economy turns down and the automatic stabilisers kick in, so the increased benefit expenditures and lower tax revenues are bound to lead to higher fiscal deficits," he said.
"So we are going to have to accept, for the next two to three years, very large fiscal deficits." But the current high level of debt means the government needs to be careful about further spending, Mr King argued.
"Given how big those deficits are, I think it would be sensible to be cautious about going further in using discretionary measures to expand the size of those deficits," he said.
"I think the fiscal position in the UK is not one where we could say, 'well, why don't we just engage in another significant round of fiscal expansion'."
Shadow chancellor George Osborne said Mr King's comments were a vindication of Conservative Party policies.
"The governor is sending a very clear warning that this country cannot borrow its way out of debt," he said.
"We are already heavily indebted and plans for a second stimulus package, which Gordon Brown has been talking up, should not go ahead."
Despite Mr King's warnings, there is no indication that the Treasury has plans for further significant spending in a stimulus package in the next budget.
Chief Treasury Secretary Yvette Cooper said there was no rift between the government and the Bank of England over economic policy.
"What [Mr King] said is (that) we need to take a sensible approach, which we always do," she said. "Further measures will take place, for example to help people get employment subsidies and training subsidies to help them get back to work.
"This has been supported not just by the Bank of England but by the CBI."