Chilean Navy clearing mine fields in Cape Horn area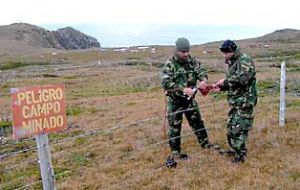 The Chilean Navy has been working for over a month and a half in the clearing of a mine field in Cape Horn, extreme south of Chile, "the first to be addressed in compliance with the Ottawa Treaty of which Chile is a signatory", reports La Prensa Austral from Punta Arenas.
The Navy set a camp next to the field and has been working under severe weather and geographic conditions, particularly since the area planted with mines is quite remote and difficult to supply according to the daily.
Rear Admiral Felipe Ojeda Simon, commander of Chile's Third Naval Zone seated in Punta Arenas said the camp in spite of the adverse conditions has proved highly operational with a group of marines, specially trained involved in the de-mining.
The camp also has a medical team and a helicopter on full alert for any emergencies.
The naval officer said that so far "we have managed to keep to schedule, with no unpleasant surprises".
The de-mining of the Cape Horn area is expected to demand a few more months of work but will have to wait for more appropriate weather conditions as of next month.
The camp will be lifted early April and the task will resume next September said the Chilean Navy.
The extreme south of Chile has abundant mine fields, dating back to over three decades when the conflict with Argentina. In Christmas 1978, an Argentine full invasion of south Chile over disputed islands, was stopped by the direct intervention and appeal to the military rulers of the neighbouring countries by then Pope John Paul II.
Although a gradual peace process was began in Montevideo, Uruguay, in 1979 with the mediation of the Vatican, which was followed by a referendum in Argentina, it was not until former President Carlos Menem that the effective dismantling of border fortifications (and mistrust) began followed by confidence building measures between the Armed Forces of Argentina and Chile.