Lula da Silva blames US, UK and Spain for current crisis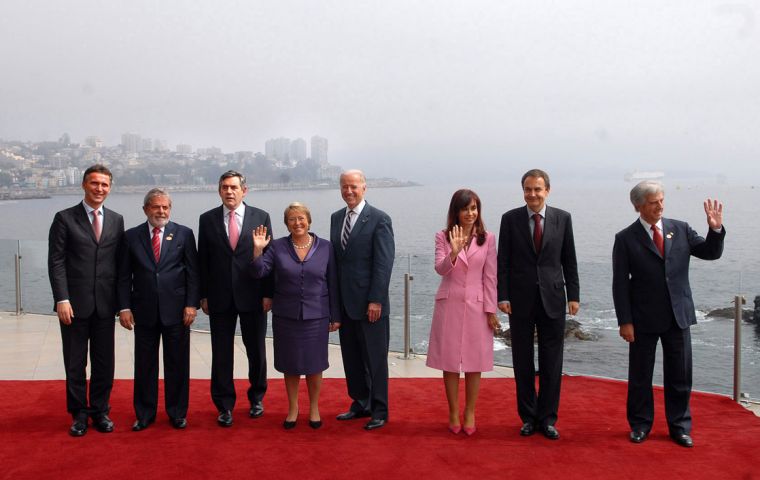 Brazilian President Lula da Silva on Saturday at the Progressive Governance summit in Chile told representatives of the United States, Britain and Spain they had a major responsibility for causing the global economic crisis.
"My dear Gordon Brown, my dear Biden, my dear Zapatero, unfortunately you are more responsible (for the downturn)," he said, addressing them directly. His statement was in line with previous quotes when he received PM Brown in Brasilia and claimed the financial crisis was caused by "white, blue-eyed people", and not by "blacks, poor or indigenous peoples".
British Prime Minister Gordon Brown, US Vice President Joe Biden and Spanish Prime Minister Jose Luis Rodriguez Zapatero were attending the Progressive Governance Summit in the Chilean seaside resort of Viña del Mar along with other world leaders.
Brown is engaged on a world tour to seek consensus on financial strategies ahead of next week's Group of 20 (G20) Summit in London. In a conciliatory tone, Biden later admitted that his country knows it has a shared responsibility for the crisis.
"We understand we share a responsibility. Some of you suggest we are primarily responsible, but regardless of your perspective, we understand we share a real responsibility," Biden said.
Centre-left leaders gathered in Chile agreed that they would demand from next week's G20 summit the imposition of urgent cross- border regulations regarding the financial sector, climate change and social protection.
"We cannot run the risk of postponing profound structural solutions" said Lula da Silva.
Biden agreed. "Forbearance is not an option. Some of our colleagues around the world seem to think that forbearance may be the answer. Well, we will not stand down in our country until we reverse the negative trends in jobs and incomes that exist within our country - and in many of yours, all of yours, quite frankly," he said.
The US and the European Union do not agree on how to handle the global recession.
Washington advocates pumping much more stimulus money into the economy, and is urging a reluctant Europe to do the same. But Europe, with its extensive social safety net, says such high investments are neither desirable nor possible.
In Chile, Brown, Biden, Zapatero and Lula joined Norwegian Prime Minister Jens Stoltenberg and presidents Cristina Fernandez de Kirchner of Argentina and Tabare Vazquez of Uruguay, as well as the host, Chilean President Michelle Bachelet.
On Saturday, Lula demanded immediate measures to prevent a crisis in the markets for energy and food as a result of the severe global economic downturn.
At the same round-table discussion, Brown stressed that markets cannot be expected to regulate themselves and noted that cross-border regulations are required on all global issues.
Biden added: "The most important thing we can do during this whole process - and it's going to begin at the G20 - is to reset the rules of the road; to have common sense oversight that keeps us from getting back into the same spot we're in 10 years from now."
Mrs. Kirchner complained that the current financial system is in a state of chaos. "It is a world without rules," she said.
The group of progressive leaders further said that huge resources are required to help the world's poorest countries deal with the crisis, through institutions like the International Monetary Fund or the World Bank, for example.