"Galtieri didn't realize we were loosing the war" reveals former Malvinas governor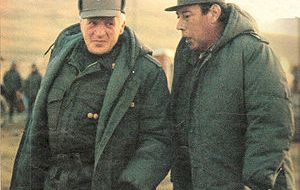 Retired general and former governor of Islas Malvinas, Mario Benjamín Menendez blamed Argentine Dictator Leopoldo Galtier for the South Atlantic conflict defeat to the British 27 years ago and stated that the former de facto president "didn't realize we were being defeated".

"The situation was absolutely deteriorating. I spoke with Galtieri and described our position. He couldn't or didn't want to understand it so I had to repeat it and finally asked if we could count with some air support or something of the kind", revealed the former military governor in an interview with a Buenos Aires daily.

"But he couldn't guarantee any support so I told him that as commander, I don't know what is going to happen with our position at the end of the day. So I will make myself responsible and hanged the phone", recalls the former general.

Menendez was governor of the occupied Falklands from April 7 to June 14, 1982 when he signed rendition papers to General Jeremy Moore.

"He sent us there and kept us there. Whether we had resources or lack of them was our responsibility", said Menendez in the interview. Galtieri didn't realize we were being defeated in Malvinas. "God will provide" was the motto.

The former Argentine officer said that signing capitulation was "terrible" and "I didn't shoot myself because committing suicide is not a solution".

He emphasized he was not a member of the Joint Chiefs of Staff, "I was head of an artillery group given the order to coordinate with the rest of artillery groups, but not even air defence was coordinated, because somebody else was responsible".

Menendez also talked about the 30.000 alleged disappeared during the last Argentine military dictatorship and said it was "an invented number". "I'm not denying these things happened but not 30.000".

He also accused the former Commander of the Army General Martin Balza who supported the 30.000 number and "describes himself as the only land hero in the Malvinas war" of playing politics.

Memendez insists that Balza as an Argentine officer participated actively in the "war against terrorism" under the military dictatorship (of the seventies and early eighties) and "in his book describes the rest of Argentine Army officers in Malvinas as idiots or pusillanimous" for political reasons. "He knows very well he is not saying the truth".