Indian Ocean dependency votes to become integral part of France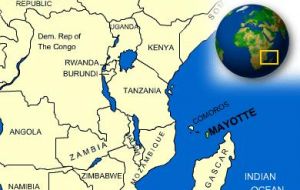 Voters from Mayotte, a tiny island in the Indian Ocean, voted overwhelmingly on Sunday to become and integral part of France, the 101th "departement". Authorities said 95.2% of those who voted (61% turnout) opted to strengthen ties with Paris which will also require the Muslim majority to abide by French law. Only 4.8% voted no.
Mayotte, 400 kilometres east of Mozambique and 300 kilometres west of Madagascar, is in the Comoros archipelago but voted against independence in referendums in 1974 and 1976. The island opted to remain French with a status allowing legal differences from the mainland.
It has an estimated population of 200,000, of whom 95% are Sunni Muslims. Many do not speak French (60%) and a third of the population is illegal migrants, mostly from the nearby islands which make up the independent Comoran state.
"It's a historic moment for Mayotte and its inhabitants", said President Nicholas Sarkozy. "Since 1958, France on several occasions was committed to begin the institutional process which would transform Mayotte into a "departement". The French state has kept its word", he added.
Sarkozy had promised a referendum during his 2007 campaign. After Sunday's vote, the island is on track to become France's 101st departement in 2011.
"This will reinforce the place of Mayotte in the republic, reaffirming our founding values, particularly equality between men and women, the same justice for all, and the place of the French language," said Interior Minister Michele Alliot-Marie.
Many islanders were keen to boost ties with mainland France, which have kept Mayotte richer and more stable than the Comoros. Mayotte GDP is ten times that of the neighbouring Comoros.
"We may be black, poor and Muslim, but we have been French longer than Nice," Abdoulatifou Aly, a legislator from Mayotte, was quoted as saying in the French weekly L'Express.
The referendum follows unrest in another French overseas "departement", the Caribbean island of Guadeloupe, which was rocked by a general strike for pay rises in February and March. That suggests that becoming a departement will be no panacea for Mayotte, where unemployment runs at more than 25%.
The islanders stand to gain economically from the change of status, as they will become eligible for a wider range of social benefits as well as European Union funds. Paris has also promised an economic development fund to boost the island's infrastructure.
However, residents will see their tax bills increase and have to abandon certain customs to conform to French law: an end to polygamy, raise the age of marriage to 18 from 15 and equal rights for women. Besides the Islamic justice system with "gadis" or religious scholars will have to take an advisory role to secular courts.
Internationally the referendum has caused controversy in the region, because the Comoros have always laid claim to Mayotte, which the African Union considers part of Africa and is therefore considered "occupied territory".