Lethal red tide threatens south shores of Chile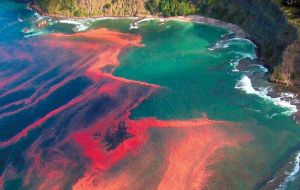 Region V health authorities have prohibited the harvest, consumption and sale of all shellfish found between Queilén and Quellon in the Aysén region. The decision was made after water samples showed a concentration of "red tide," the deadly micro algae Alexandrium catenella, which was ten times the level tolerated by the human system.
Chile's Navy on March 26 confiscated 12.5 tons of contaminated shell fish from three different boats.
The red tide toxins were first detected in Aysén and killed two people in 15 days. The paralyzing algae bloom has spread to the Quellon region of Island Chiloé, a phenomenon that Héctor Morales, vice president of the Provincial Council of Fishermen in Chiloé, hoped would not occur, especially in light of the world economic crisis and the troubled salmon industry.
Six patients poisoned by the red tide were admitted to the hospital in Castro, Chiloé, last week and four of those are in critical condition. Five of the intoxicated patients are workers for a company which collects the nets used at cultivation centres of shellfish in the Region XI.
The workers consumed shellfish which contained more than 8,000 micrograms of the toxicant, when the maximum that can be safely consumed is 80 micrograms for every 100 grams of meat. (Santiago Times)