Fidel Castro meets with three US members of Congress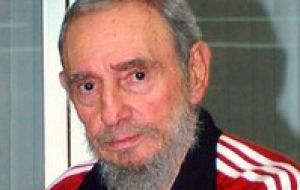 Former Cuban President Fidel Castro has held a meeting with three members of the US House of Representatives. The event was his first known meeting with US officials since he underwent emergency intestinal surgery in 2006.
Mr Castro has not been seen in public since he was taken ill, and ceded power to his brother Raul last year, although he has met, and was been repeatedly photographed, with foreign dignitaries visiting Cuba.
Analysts say the meeting indicates an increased willingness on the part of Cubans and the US to resolve tensions between the two countries.
The delegation, which is being led by Congresswoman Barbara Lee, met Raul Castro on Monday.
The US Interests Section in Havana said three members of the six-member visiting US delegation met Fidel Castro, shortly before the group left for Washington at the end of a trip in which they also met with President Raul Castro.
US Representative Barbara Lee that chairs the Congressional Black Caucus and leader of the congressional delegation, headed the group that met Fidel Castro, an Interests Section spokesman said.
The delegation said Fidel, 82, who remains fragile after undergoing emergency intestinal surgery in July 2006, seemed alert and energetic."As he leaned in, he looked directly into our eyes, quite aware of what was happening, and said to us 'how can we help President Obama?'," said Laura Richardson, also from California.The meeting took place at Castro's home, where they were greeted by his wife, Lee said.
After the lengthy meeting on Monday night with Raul Castro, the members of the US Congress delegation said they were convinced the Cuban president wanted to end 50 years of hostility between the two countries.
Lee said on Tuesday the six Democrats would return to Washington after their five-day trip with a simple message: "It's time to talk to Cuba. The moment is now."
"All of us are convinced that President Castro would like normal relations and would see normalization, ending the embargo, as beneficial to both countries" Lee told reporters.
The meeting with Raul Castro was front-page news in the ruling Communist Party's Granma newspaper on Tuesday, which said the discussion covered various topics "with emphasis on the possible future evolution of bilateral relations and economic ties."
Raul Castro, the article said, made clear Cuba's long-standing position that it was prepared to talk about anything with the United States, while insisting on "absolute respect" for independence and national sovereignty.
Lee said the U.S. delegation would report to Obama and the State Department before the April 17 Summit of the Americas in Trinidad and Tobago, which Obama will attend.
President Barack Obama is expected to announce soon that he is easing restrictions imposed in 2004 by George W Bush on travel and remittances for Cuban-Americans.
Last week, a bill was introduced to Congress which would allow unrestricted travel to Cuba for all Americans. Meanwhile, in an article published on Sunday, Fidel Castro said his country was not afraid to talk to the US.
But no-one is yet expecting the lifting of the US 50-year-old trade embargo on Cuba, as virtually all Latinamerican leaders have suggested as the first big step for improving relations between Washington and Latinamerica.