First meeting of Uruguay chancellor with Hillary Clinton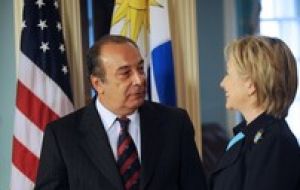 The coming Americas summit in Trinidad Tobago, bilateral affairs and regional issues was the long agenda addressed by Uruguay's Foreign Affairs minister Gonzalo Fernandez during a meeting Monday with Secretary of State Hillary Clinton at the US State Department.
Fernandez is currently in Washington for the celebration of the sixtieth anniversary of the Antarctic Treaty and the end of the Polar year which has convened delegations from sixty countries and international organizations.
"Uruguay has a lot of interests in the Antarctica area but this is also an opportunity for us to discuss matters of bilateral and regional concern. Uruguay is a country with whom we have a lot of shared values. It's also a country that has shown progressive leadership on a number of important matters. And we'll discuss those as well as the upcoming Summit of the Americas", said Hillary Clinton on welcoming Fernandez.
The Uruguayan minister described bilateral links with the US as very good and "a very consultative relationship between our both countries".
The Americas summit is scheduled for April 17 to 19 in Trinidad Tobago.
Other issues of the bilateral agenda refer to the Trade and Investment Framework Agreement, TIFA, Uruguay signed with the George Bush administration to promote trade between both countries.
In spite of diverging political positions in several issues Uruguay established a very close pragmatic relation with the previous US administration and President Bush visited the country as part of a Latinamerican tour during his second mandate.
Actually Uruguay benefited from President Bush friendly attitude and relation towards former president Jorge Batlle, helping Uruguay to overcome the 2001/02 financial crisis that spilt over from Argentina, and later with Socialist President Tabare Vazquez.
Argentina's intransigent position, under President Nestor Kirchner, in several international affairs contributed to bring together the conservative Bush and Socialist Vazquez, plus the fact they were both very close in fundamental religious ethics and moral issues such as abortion.
Mr. Fernandez also met with the chairmen of the Lower House and Senate Hemispheric Affairs committees as well as with the recently named US Trade Representative Ambassador Ron Kirk.
This is the second top level meeting of Uruguayan officials with the new administration of President Barak Obama. Last March 27 President Vazquez, in the framework of the Progressive Leaders forum held in Chile, met with Vice-president Joseph Biden.
Following the Viña del Mar meeting President Vazquez was quoted saying that President Obama "has an open desire and the most manifest of intentions of improving relations with Latinamerica".