Insecurity helping to push farmland prices in Paraguay down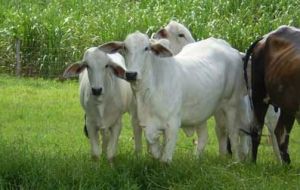 The prize of farmland in Paraguay has fallen significantly because of insecurity and the slide in international prices for oil seeds, mainly soybeans, according to a report from the head of the Agronomy Department at the University of Asunción, Ricardo Garay.
The extended feeling of insecurity caused by the constant invasion of farms through organized groups of "landless" peasants and a 2% contraction in the area dedicated to soybean, (following years of sustained growth), can be identified as the main reasons behind the fall in prices for farmland.
The area dedicated to soybeans in Paraguay fell from 2.644.856 to 2.596.653 hectares in the last twelve months, said Mr. Garay who added that insecurity also feeds on itself, "since investments in already established soybean farms is also dropping".
Those areas more distant have seen prices per hectare drop between 30 and 40% said Mr. Garay, although the head of Paraguay's Land and Rural Administration Department, Alberto Alderete discards such high percentages and estimates the overall average to be in the region of a 10% drop.
Nevertheless Mr. Garay and Mr. Alderete agree the price for a hectare of farmland in Paraguay can vary between the equivalent of 800 and 4.000 US dollars.
The report from the Agronomy Department from the University of Asunción is part of a major government program to improve the land taxes and collection system, thus helping bring more idle land to the market and lowering prices.
The current administration of President Fernando Lugo has promised land to peasants and has become a strong purchaser of plots, but it believes that with a proper survey and fair taxing, particularly on idle land, the supply will increase and prices fall.