Manhattan has become a buyers' property market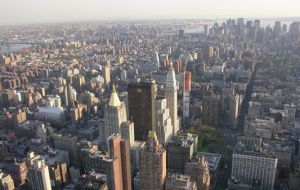 Sellers of property have called the shots for years on the Manhattan 22.7 square mile island that is the financial capital of the United States. But now buyers are having their day, according to the first-quarter reports due from major real estate brokerages on Thursday.
In the fourth quarter of 2008, for example, resale median prices in Manhattan fell 9.5% for condominiums and 5.2% for co-ops compared with the third quarter of 2008, according to real estate website StreetEasy.com.
This quarter, they declined even more, both compared with the prior year's first quarter and sequentially, said Sofia Kim, the website's head of research.
From the market peak between the fourth quarter of 2007 and the first quarter of 2008, listing prices, typically higher than the selling price in a buyers' market, plunged between 10 and 20%.
"I still don't think the market has bottomed out" said Kim, who expects prices to decline at least another 10%. In the first quarter of 2009, the number of Manhattan homes on the market hit 15,460, a 41% increase compared with the first quarter of 2008, according to StreetEasy.com data.
The reports are expected to reflect job losses on Wall Street, which have depleted Manhattan's pool of potential homebuyers, causing uncommon declines in real estate prices.
In February, New York City's unemployment rate rose 1.2 percentage points to 8.1% from January, the highest level since October 2003 the state Department of Labour said last week.
The reports paint an ugly picture for sellers in the first quarter, when few credit-worthy buyers were prepared to step into the market, those privy to the reports said.
"This is the first quarter that we're really seeing price drops," said Pam Liebman, chief executive of the Corcoran Group, the city's largest real estate brokerage. "These days, the buyers are feeling better than the sellers. The last couple of years, it was the other way around".
In a market where prices have steadily risen for years, "A seller today simply has to be the lowest in their category," said Brown Harris Stevens broker Elaine Clayman.
"They have to understand that their apartment could be worth less in a month," said Clayman, who has seen rejected buyers return with lower offers, generating "tremendous frustration for the seller".
Sellers must acknowledge the shrinking of the market in the aftermath of the upheaval on Wall Street, which cost jobs as well as billions of dollars in bonuses that financial services employees might have used to trade up to a new living space, said Paul Herrick, a real estate lawyer. He estimates his business in the first quarter was off 50% compared with last year.
Already in 2008, Wall Street firms slashed bonuses by 44%, cutting the total to 18.4 billion USD from 32.9 billion in 2007, said state Comptroller Thomas DiNapoli.
Another factor dampening demand is the global credit crisis which has made it much more difficult to get a mortgage, especially for expensive Manhattan real estate. Banks are demanding larger down payments and more liquidity from borrowers, post-closing, said Eric Appelbaum, president of Apple Mortgage Corp. They have even tightened standards at the building level, demanding a higher owner-occupant and lower investor concentration.
"People are having difficulty closing," StreetEasy.com's Kim said. "They have been in contract for quite some time and if they can't find financing they can't close, and if they can't close, they lose their deposit."
Outside of Manhattan, in the Hamptons, the New York state ocean-side communities favoured by financiers and celebrities, plunged 67% in the first quarter from a year earlier as Wall Street job cuts and investment losses stifled demand for second homes.
Across 11 eastern Long Island towns, 96 homes sold in the three months ended March 31, marking the biggest percentage drop in at least 27 years, according to property broker Town & Country Real Estate. It was the biggest percentage drop in their records, which date to 1982. In the same quarter of 2008, 287 homes sold.
"We are a luxury item, and people don't want to spend money," said Judi Desiderio, president of Town & Country. "I don't think anybody was thinking about buying a second home if they're watching the stock market fall off a cliff".