Colombian Catholic Church openly against third Uribe re-election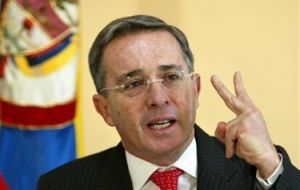 The Colombian Government is not amused by the Catholic Church's rejection of a possible re-election of President Álvaro Uribe. Both Archbishop Pedro Rubiano and Bishop Ruben Salazar turned against a possible third term for the current President.
"I believe that following a second term in office, it is important that the President should not aspire to a third re-election, but rather someone else should come forward, so the country elects another citizen for President", said the highest member of Colombia's Church after celebrating Good Friday mass in Bogotá cathedral.
In March Barranquilla Bishop Salazar said "it is better that he (Uribe) does not try a new re-election, because a country needs change. It is not good to affect the democracy."
President Uribe concludes his second mandate in August 2010 and could have a chance of a third term if Congress approves a referendum to reform the constitution, since a second consecutive re-election is banned.
The president was re-elected in 2006 following a controversial constitutional reform sponsored by the ruling coalition in Congress. Uribe who was first elected in 2002 has been by far the most popular president in Colombia, never below 70% approval, basically because of his strong hand with the guerrilla and organized crime.
Interior and Justice Minister Fabio Valencia Cossio, in charge of pushing the constitutional change needed for the re-election, said "it is better not to enter in such disputes" with the church, adding that "in the Church, both the Pope and the bishops and cardinals are chosen for life."
Colombia's Catholic Church has been insisting on a national discussion about the possible re-election of President Uribe. According to the Church, the country should choose democracy over a person. "Mr. Uribe can ran again in 2014, if he so wishes", is the official position of the Colombian Catholic Church, but not a third term.
Ruben Salazar, who is also chairman of the Episcopal Conference, says the church's objection is not about Álvaro Uribe, but about the democracy. "We will see if it is desirable that the country opens the possibility for an indefinite re-election, we will see if it's desirable for the country or not," the clergy told the newspaper El Espectador.
Even though the approval rating for the President is high, there is no reason to change the constitution so that someone can take advantage of it, especially when there is no possibility to debate the possible risk, Salazar said.
However Uribe's chances of winning a reform to run for a third term are helped by his impressive approval ratings and the weak field of candidates to replace him.