House and flat sales in Britain remain very sluggish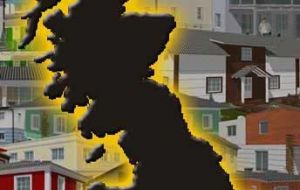 Nearly a third of flats and more than a quarter of houses up for sale in Britain have been on the market for more than six months, research has shown. Around 30% of flats and 26% of houses have failed to sell during the past six months, while 10% of flats and 7% of houses have been on the market for more than a year, according to property website Globrix.com.
The group said despite interest from potential buyers picking up during the past few weeks, falling house prices and the shortage of mortgages meant sales had remained static.
It said one-bedroom flats, which are traditionally popular with first-time buyers who are most likely to struggle to get a mortgage in the current market, were proving the hardest to sell, while three-bedroom family homes were most in demand.
The British market stagnation is most severe in Aberystwyth in Wales, with 26% of house and 23% of flats that are on the market there still unsold after 12 months. Homes in Rochdale are also taking a long time to sell, with 22% of houses and 18% of flats still on the market a year after they were first put up for sale.
In Shrewsbury 20% of houses have failed to sell after a year falling only slightly to 18% in Newport and Hartlepool and 15% in Torquay and Oldham.; Peterborough has the highest proportion of unsold flats, with 24% still unsold after a year.
In Altrincham, Cheshire, and in Shrewsbury 22% of flats on the market have been up for sale for at least a year, with 19% of flats in this position in Oldham and Portsmouth.
Daniel Lee, chief executive of Globrix, said: "On the surface these figures make pretty grim reading. However, there is far more optimism. Estate agents are reporting that buyer interest has picked up over the last couple of months.
"The problem is that this activity in the market isn't yet converting into tangible sales." He said the next couple of months were likely to provide a strong indicator of the current state of the property market, as early spring is traditionally a buoyant time for property sales.