Argentina's 2008/09 soy bean crop 16% below last year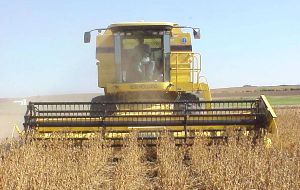 The United States Department of Agriculture (USDA) downgraded significantly Argentina's 2008/09 soy bean crop estimates. Only a month ago the volume forecasted was 43 million tons, but the latest was brought down to 39 million tons.
Overall this represents 16% below the previous harvest. USDA attributes the fall in volume and yield to the extended drought that punished some of the country's best farmland.
The information is considered extremely sensitive for world markets since Argentina is the world's third producer and exporter of soy.
USDA estimates Argentina's 2008/09 soy exports to be in the range of 10.1 million tons, down from the March forecast of 11.7 million tons.
Regarding Brazil another major World placer as second exporter behind United States, USDA estimates this year's crop at 57 million tons, unchanged from the previous month forecast, but lower than the 61 million tons of last year.
Brazilian soy bean exports are estimated to total 25.14 million tons for the 2008/09 crop.