Lula da Silva says Obama must not be embarrassed on the Cuban issue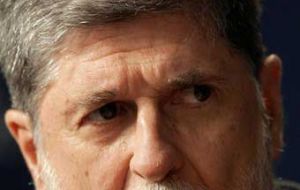 Brazilian president Lula da Silva anticipated he will address the Cuban issue in the coming Americas Summit next Friday in Trinidad Tobago, but Brazilian diplomacy is also working to ensure it does not become an irritating discussion, according to Sao Paulo press.
"What the president wants is that the issue causes no embarrassments for (Barack) Obama, with whom he is genuinely enchanted" according to Folha de Sao Paulo.
Folha and O Estado de Sao Paulo published, based on reliable Brazilian government sources, that the Cubans allegedly asked the Brazilian diplomacy to help contain the tone of the discussion in the Trinidad Tobago summit.
Last week President Lula da Silva and Chancellor Celso Amorim received in Brasilia the new Cuban Foreign Affairs minister Bruno Rodriguez.
"The Brazilian government expectation" is that the Cuban issue, which will not be formally mentioned in the Trinidad Tobago document, "is forcefully addressed in the Organization of American States general assembly next June 2", underlined Folha.
Cuba will become the "real test" for President Obama in the summit that begins Friday said Amorim last week who added that "formally" Brazil will not be acting as "mediator" between Washington and Havana.
Nevertheless Itamaraty Palace, seat of Brazilian diplomacy, believes that Brazil has become an outstanding voice globally and could very well act as a "facilitator" of distension between United States and the Castros regime.
Itamaraty also recalls that President Lula da Silva was twice in a year in Cuba and when his first official international tour, President Raul Castro travelled to Bahía and Brasilia last December. President Lula da Silva also is credited with calling for an end to the US embargo on Cuba after meeting with President Obama in the White House.
Brazilian diplomatic sources point out that President Lula da Silva will try to neutralize the impetus of Venezuela's Hugo Chavez when questioning Washington's policies towards the region and the Cuban blockade. However it was also pointed out that even with former President George Bush, "Mr. Chavez at the summits acted with respect and politeness towards all leaders".
"US diplomats basically agree with the gradual approach on the Cuban issue proposed by President Lula da Silva", reported the Sao Paulo press,
The atmosphere has improved considerably because on Monday the "Obama administration has honoured its promise of lessening travel, trade and investment barriers regarding Cuba".