Climate change threatens Antarctica's emperor penguins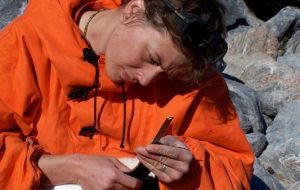 Polar bears, the poster children for Arctic climate change, are getting competition for the title of climate change casualty from the opposite side of the globe. Antarctica's emperor penguins may face an equally dire fate. Like polar bears, these birds depend on sea ice for breeding and feeding habitat. Also like polar bears, emperor penguins seem unlikely to adapt to the rapid rate of sea ice extent change, according to a National Academy of Science study released by the National Centre for Atmospheric Research.
Led by Stéphanie Jenouvrier, a scientist at Woods Hole Oceanographic Institute, the study indicates that over the long term increasing numbers of warm events and related reductions in sea ice extent will have serious implications for penguin populations.
Chick incubation, hatching and rearing occurs during the Antarctic winter on pack ice in dense colonies located miles from the open sea. Both adults and chicks depend on the sea for food, so either too much or too little sea ice challenges survival and fertility rates, says Jenouvrier.
In cold winters, more extensive sea ice increases the length of the seaward trek, causing the birds to expend more energy during their hike from colony to sea and back. Not only does this physically tax the adults, it limits their ability to provide food – regurgitated fish – for the chicks. In warmer years, reduced sea ice coincides with smaller krill populations. Krill, small, shrimplike sea creatures, sit close to the base of the Antarctic food chain and rely on plankton that grows beneath sea ice. Less sea ice means less plankton and fewer krill. Lower krill concentrations reduce fish numbers, a dietary mainstay for emperor penguins, affecting adult penguin survival.
In looking at historical population records for the Terre Adélie penguin colony, which span 1962-2005, Jenouvrier noticed dramatic population changes between 1972 and 1981. During this period, a series of warmer, low-sea-ice years led to a 50% population reduction.
Wanting a way to estimate the impacts of changing climate and sea ice conditions for this colony, Jenouvrier turned to sea ice, climate, and penguin experts at the National Center for Scientists from NCAR and NSIDC assessed a number of Intergovernmental Panel on Climate Change (IPCC) models, identifying 10 different models that best replicated observed data, explains Marika Holland, an oceanographer and sea ice modeller at NCAR.
Jenouvrier then fed this information into a population model she had designed to provide past, current and future projections of penguin numbers across the Terre Adélie region through 2100. Jenouvrier and her colleagues will build on this effort, adding climate and sea ice information from other regions to the model in spring 2009.
This expanded model will then be used to make population estimates across the continent in areas such as the West Antarctic peninsula, where warming has been pronounced during the past 50 years and where penguin colonies will likely feel the brunt of changing climate. The geography of this region severely limits migration options, and already the 150 breeding pairs of the 1950s are reduced to just a few today. Even in the continent's relatively cooler southernmost regions near the Ross Sea, where temperatures have thus far been less impacted by global warming and penguin populations have a breeding haven, sea ice extent will likely be reduced due to impacts of warming over the next 100 years.
Because of their inability to adapt quickly, a reduction in emperor penguin populations seems likely during this century. However, with the penguin population model, scientists will be better equipped to estimate possible effects of climate change on penguin populations and develop more effective plans around penguin conservation.