Chile purchases 18 second hand F16 fighter planes from Holland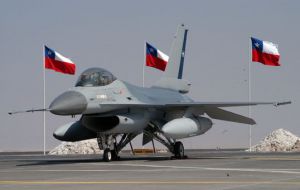 Chile purchased another batch of 18 refurbished F-16 fighter jets from Holland to strengthen and renovate the material and equipment of the country's Air Force, informed Defence minister Francisco Vidal late Tuesday in Santiago. The operation involves 270 million US dollars.
Six aircrafts will be arriving next December, the first of a group of six deliveries which should be finished by mid 2010 and will replace the wing of F 5 Tigers that have been operational since 1976.
This is not the first time Chile purchases fighters from Holland: a first contract for another 18 F-16 was signed in 2005 by then Defence Minister Jaime Ravinet, involving 185 million US dollars. The fighters had an average 3.500 flight hours.
Three years earlier, in 2002, Chile purchased six brand-new F-16 from United States valued at 650 million US dollars.
Mr. Vidal said that with the latest incorporation Chile will have an air fleet of 44 F 16 fighter bombers. The minister made the revelation during a meeting with the Defence Committee from the Lower House to consider the issue of the presidential plane, which had to emergency land in Canary Islands last April 2 while flying with President Michelle Bachelet and an official delegation.
Vidal said that the renewal of air material was in the framework of the government's policy and financial budget, to update the ageing F-5 Tigers dating back to the seventies.
"Chile is not involved in any arms race; we simply are replacing material and this was long announced", emphasized Vidal in anticipation of possible comments from neighbouring countries which are not involved in similar policies but are always fearful of Chilean resources.
"This is renovation; we are simply renovating absolutely obsolete material; what we've done along the last decade is renovate material dating back to the seventies. Chile has not increased its military hardware, we have renovated our material".
"We are talking of 18 second hand fighters refurbished in Holland which will begin arriving at the end of the year", he added.
Chile will now have three combat groups of F-16 the US fighter most extended world wide.