Egypt begins mass slaughter of pork population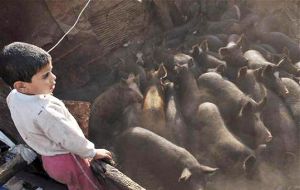 Egypt has begun a mass slaughter of thousands of pigs in an effort to prevent swine flu spreading. The cull was going ahead despite there being no cases of swine flu in Egypt. However, neighbouring Israel has two confirmed cases in humans.
"It is decided to slaughter all swine herds present in Egypt, starting from today," said Health Minister Hatem el-Gabali, according to Mena news agency.
Swine flu has spread from Mexico to several countries around the world.
The pigs in Egypt, a largely Muslim country, are raised by the Coptic Christian community. Estimates of the number of pigs range from 250,000 to 400,000.
Up to 159 people are believed to have died in the outbreak - all but one of them in Mexico. Confirmed cases of swine flu have been reported in numerous other countries, including New Zealand, Spain, Austria and Canada, but most have been mild cases.
Many of those victims had been to Mexico, prompting airport screening for passengers displaying potential flu symptoms.
Egyptian authorities increased numbers of medical staff at Cairo airport to check passengers arriving from Mexico and will monitor them during their stay.
Egypt suffered during the outbreak of bird flu, between 2004 and 2008, with 22 deaths reported.
The latest swine flu is a variation of H1N1, which causes seasonal outbreaks of flu in humans on a regular basis. However, this strain contains genetic material that is typically found in strains of the virus that affect humans, birds and swine.
Pigs can act as a "melting pot" for several flu strains.