Morales lobbies for Cuba and describes himself as partly "Marxist-Leninist"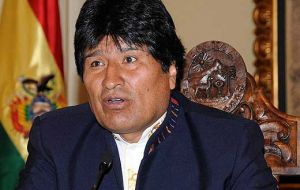 Bolivia's president Evo Morales defined himself as "Marxist-Leninist" in an interview with the Argentine newspaper Clarín in which he rejects the continued exclusion of Cuba from the Organization of American States, OAS dating back to 1962.
"It can't be understood why for ideological motives someone is kicked out of OAS. I'm also Marxist-Leninist, so what are they going to kick me out also?" said Morales in the interview.
"How many governments nowadays in Latinamerica have left wing governments?" added Morales who said he hoped the United States would lift the embargo on Cuba. "That is why no final declaration was signed at the end of the Trinidad Tobago (Americas) summit", which was drafted 18 months ago when there was no capitalism financial crisis or this great feeling towards Cuba, "and it was not the result of debate among presidents".
Morales said the "principles or Marxism are part of the indigenous movement struggle for freedom, dignity and above all land".
The confession of "Marxist-Leninist" refers to the public admission of the Cuban revolution leader Fidel Castro in the early sixties (and his alignment with the Soviet block) which triggered the ongoing conflict with the United States.
The Bolivian president also revealed that the Cuban issue concentrated most of the debates at the recent Americas summit.
"What we talked at the summit was Cuba, Cuba and Cuba and that was not in the final document".
However Morales said he was pleasantly surprised with President Barack Obama and it was important that the US president "has listened to the rest of us" at the summit. "Besides some of the messages from Obama is part of our government program".
Morales also pointed out to Unasur (Union of South American Nations) which "does not have a deep legal framework, but it is a reality" as it was evident during the conflict between Colombia with Venezuela and Ecuador.
"We don't need the presence of United States to solve our problems".