Conservative businessman elected president in Panama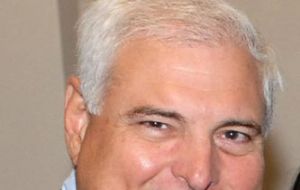 Panamanian opposition leader and supermarket mogul Ricardo Martinelli has won Panama's presidential election, the head of the country's electoral tribunal said Sunday. Martinelli, of the conservative Democratic Change party, edged out former Housing Minister Balbina Herrera of Panama's ruling Democratic Revolutionary Party, said Erasmo Pinilla of the electoral tribunal.

A final vote count wasn't immediately available Sunday evening.

"This is a victory for all the people of Panama," Martinelli said. "And I make a call to all our opposition -- to all the parties that opposed us -- that you all are all Panamanians. ... Tomorrow we have to start a new day."

Martinelli also ran for president in 2004, when he came in fourth with about 5% of the vote. President Martin Torrijos won that election with about 47% of the vote.

The new president will face a series of economic challenges as the global economic downturn hits the crucial trade link of the Panama Canal.

Maratinelli seems to have tapped into the concerns of poor Panamanians by promising to clamp down on political corruption and get tough on violent crime.

He has been critical of Mr Torrijos and Ms Herrera, whom he accuses of failing to tackle poverty while lining their pockets in the process.

In 2006 President Torrijos won a referendum on his proposal to widen the Panama Canal, and economic growth during his administration has averaged around 8.5%.

But Mr Martinelli has spent heavily on marketing, an estimated 35 million US dollars, and with his wife he has crossed the country giving grants and other financial incentives to students.

Panama receives a little under one-third of its tax revenues from the canal, but amid the global economic crisis traffic through the canal has slowed significantly

The winner, whose term ends in 2014, will have to guide Panama through the world economic crisis and the 5.25 billion US dollars expansion of the canal to increase its capacity and accommodate larger ships.

The winner takes office July 1, replacing President Martin Torrijos.