IMF forecasts "relatively good" performance for Latam economy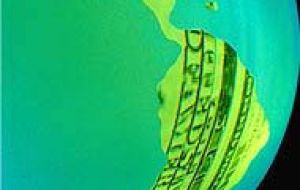 Economic activity in Latin America and the Caribbean (LAC), sharply affected by the global economic crisis, is expected to contract by 1.5% in 2009, from about 4.5% growth in 2008, before rebounding next year, according to the latest forecast for the region by the International Monetary Fund.
But despite the contraction, the forecast suggests a relatively good performance for the region compared to the past, according to the latest "Regional Economic Outlook: Western Hemisphere", published this week.
"There is no doubt that the region is being hurt by the global turmoil" says Nicolas Eyzaguirre, Director of the IMF Western Hemisphere Department. "But the region today has a much higher level of preparedness.
"As a result, it is not facing a fiscal crisis, as some other developing regions, or a banking crisis, as the United States and much of Europe. Looking at previous global downturn episodes, the LAC region's growth would normally trail the world by one or two percentage points. Now, however, we expect the region to keep up with world growth, which, in relative terms, is a positive development," Eyzaguirre said.
The United States, where the crisis began, is expected to see a contraction in its economy in 2009 of 2.8%.
Eyzaguirre noted that in contrast to past downturns, when policymakers in the region had to react defensively to external shocks with spending cuts and interest rate hikes to avoid a deeper downward spiral, this time around they have been able to respond in a very different way: with active policies to boost output and employment. They have been able to implement more countercyclical policies than at any other time.
To different degrees, according to each country's condition, governments have been able either to maintain public expenditure or increase it. "Many central banks were able to provide liquidity and interest rates were lowered," Eyzaguirre said.
The external shocks hitting the region have been severe, the latest outlook notes. All countries have sustained a loss of external demand, and many also have suffered deterioration in their terms of trade as commodity export prices plunged. Countries with relatively large manufacturing sectors have been especially hard hit.
Income from remittances and tourism is also sinking. And external financing has become more costly for all, with some borrowers cut off from financing, the report explains. Overall, output losses from the current crisis would amount to several percentage points of the region's GDP over 2009–10, the report estimates.
But the outcome for the LAC region could have been much worse. Instead, the region has accumulated many sources of strength and resilience during the past decade, in varying degrees. Many countries have made important strides in strengthening fiscal positions and public debt structures, solidifying financial systems and their regulation, anchoring inflation expectations, and building more credible policy frameworks.
And a significant number of countries count on flexibility of their exchange rates as part of their adjustment process. "The lesson emerging from Latin America is that stronger fundamentals pay important dividends when external conditions deteriorate," Eyzaguirre said in a press statement.
The IMF projects growth in the region will recover to around 1.5% by 2010, in line with global growth—but earlier, and at a faster pace, than in advanced economies. This earlier rebound is supported by the absence of systemic banking problems in the region, which would allow Latin American economies to resume growth more quickly than in regions where severe problems persist in the financial sector. In addition, the greater scope for countercyclical policies, including sustaining public spending in infrastructure and social safety nets, would support growth going forward.
Inflation is likely to decline in most LAC countries this year. This represents another break from the past, when external shocks sometimes led to destabilization and a surge in the inflation tax, hitting the poor the hardest. For the region as a whole, the average inflation rate is projected to fall by about 2 percentage points, to about 6% in 2009.
The challenge for policymakers in Latin America and the Caribbean will be to manage an orderly process of adjustment, limiting feedback loops between the real and financial sectors that can reinforce the downturn, and minimizing associated output and employment losses. This means applying countercyclical policies where conditions are right, and maintaining policy credibility. The strengthening of financial systems and financial supervision has proved key for resilience, and the slowdown will be less pronounced if confidence in policy frameworks is maintained.
In this context, the report identifies a crucial role to be played by international financial institutions. In particular, the IMF can monitor and help coordinate the macroeconomic policy responses to the global crisis, encouraging each country to play its part and to avoid actions that could cause adverse spillovers. Financing by the IMF can support confidence and aid in cushioning the costs of the global shocks, including by providing more scope for countercyclical policies.
The IMF has an array of instruments that can be tailored to countries' needs and circumstances. For instance, several countries in Central America (Costa Rica, El Salvador, and Guatemala) have large precautionary arrangements with the IMF to reduce uncertainty and bolster confidence. In the Caribbean, several countries have requested IMF financing or augmented existing arrangements.
The IMF has also invited strong-performing countries to use the newly created Flexible Credit Line, to underscore international confidence in their policy framework. Mexico and Colombia have responded to this invitation and the IMF Executive Board has approved such a line for Mexico, and will soon consider one for Colombia.
According to IMF growth estimates for South America and Mexico in 2009 and 2010, Argentina is set to perform -1.5% and 0.7%; Brazil, -1.3% and 2.2%; Bolivia, 2.2% and 2.9%; Chile, 0.1% and 3%; Colombia, 0% and 1.3%; Ecuador, -2% and 1%; Paraguay 0.5% and 1.5%; Peru, 3.5% and 4.5%; Uruguay, 1.3% and 2% and Venezuela, -2.2% and -0.5%. Mexico, -3.7% and 1%.