FAO proposals to tackle abandoned fishing gear lost at sea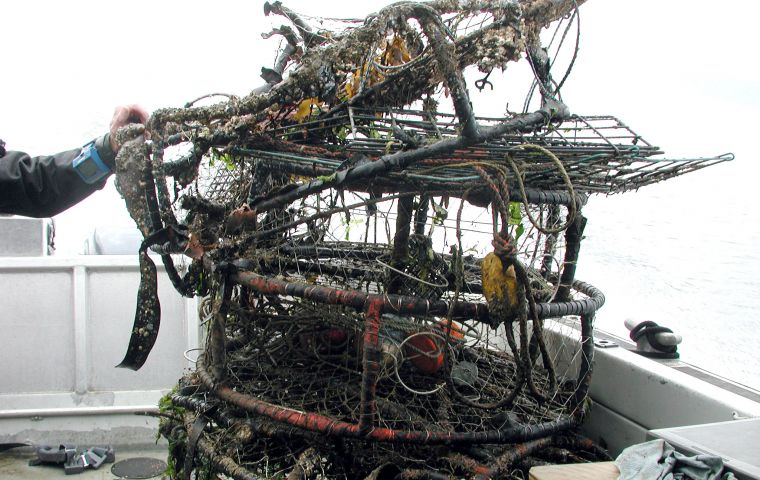 The UN Food and Agriculture Organization, FAO and the UN Environment Program, UNEP have made a number or recommendations for tackling the problem of abandoned fishing gear lost at sea and which are severely hurting the marine environment.
According to FAO and UNEP the problem of abandoned, lost or otherwise discarded fishing gear (ALDFG) as well as the so called "ghost fishing" is getting worse due to the increased scale of global fishing operations and the introduction of highly durable fishing gear made of long-lasting synthetic materials.
To combat this problem FAO/UNEP have made several recommendations which include financial incentives, marking and better reporting of abandoned gear, new technologies, improving collection, disposal and recycling schemes.
The initiative comes in advance of the World Oceans Conference which is scheduled to take place in Manado, Indonesia, May 11-15, and where the issue of realizing healthy marine environments will figure high on the agenda.
The total input of marine litter into the oceans per year has been estimated at approximately 6.4 million tons annually, of which nearly 5.6 million tons, 88% comes from merchant shipping.
Some 8 million items of marine litter are thought to enter the oceans and seas every day, about 5 million (63%) of which are solid waste thrown overboard or lost from ships.
Based on this data it is estimated that currently over 13.000 pieces of plastic litter are floating on every square kilometre of ocean. In 2002, 6 kg of plastic was found for every kilogram of plankton near the surface of a gyre point in the central Pacific, where debris collects.
FAO/UNEP believe that economic incentives could encourage fishers to report lost gear or bring to port old and damaged gear, as well as any ghost nets they might recover accidentally while fishing.
Since not all trash gear is deliberately dumped, marking should not be used to "identify offenders" but rather better understand the reasons for gear loss and identify appropriate, fishery-specific preventative measures.
Another chapter is the possibilities new technology offers for reducing the probability of ghost fishing (continued catches of fish and other marine life by abandoned gear). Sea-bed imaging can be used to avoid undersea snags and obstacles. Using GPS, vessels can mark locations where gear has been lost, facilitating retrieval, and transponders can be fitted to gear in order to do the same. Similarly, improvements in weather monitoring technology can be used to help skippers avoid deploying nets when very bad weather is imminent. Using durable gear components that incorporate bio-degradable elements is another option.
It is necessary to facilitate proper disposal of all old, damaged and retrieved fishing gears. Most ports do not have facilities on site that allow for this but putting disposal bins on docks and providing boats with oversized, high-strength disposal bags for old fishing gear or parts thereof can help remedy this. Finally a key recommendation is that vessels should be required to log gear losses as a matter of course. However a "no-blame" approach should be followed with respect to liability for losses, their impacts, and any recovery efforts, it says. The goal should be to improve awareness of potential hazards and increase the opportunity for gear recovery.