Montevideo, best quality of life; Santiago leads in infrastructure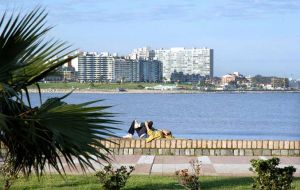 Uruguay's capital Montevideo remains the best city for quality of life for foreign executives in Latinamerica, while Haiti's capital Port-au-Prince is the worst, according to the latest survey from Mercer.
The survey looks at ten key factors, including political and social environment, economic environment, health and sanitation and schools and education. Other leading cities in Latin America include Buenos Aires, Santiago, Panama City and Monterrey.
Apart from Port-au-Prince, the worst cities for quality of life are Havana, San Pedro Sula, Managua and San Salvador.
Mercer has also developed a city infrastructure index, which measures best infrastructure based on electricity supply, water availability, telephone and mail services, public transport provision, traffic congestion and the range of international flights from local airports.
Santiago de Chile tops the Latinamerican ranking, followed by Buenos Aires and Montevideo. Port-au-Prince again ranks last, followed by Havana and Managua, Mercer reports.