Oil companies' delegation visits Falklands in anticipation of drilling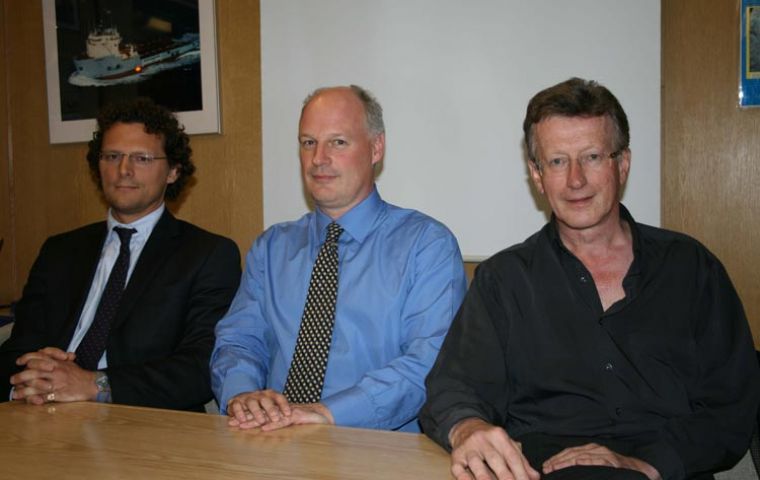 Representatives of oil companies intending to drill in North and South basins around the Falkland Islands say they are, "…as confident as they can be in an exploration setting," that they will be successful in their endeavour to recover oil in commercial quantities.
Eleven representatives from Desire Petroleum, Argos Resources, Rockhopper Exploration, BHP Billiton and Borders and Southern Petroleum spent between five and seven days in the Falklands this week.
Asked if they were anticipating any particular problems, Dr John Hogan, Chief Executive Argos Resources, said, "Drilling here is easy for us… we can benefit from the history and drilling is fast."
A 3.000 m dry hole can be drilled in about 20 days. Drilling rates are high, there are no unusual near-bottom currents, no known gas hazards and rock is not dense.
The companies are also not expecting problems from the harsh South Atlantic weather as drilling has been shown to be almost unaffected by weather and currents.
The delegation was complimentary about Falklands officialdom, Mr Stephen Phipps of Desire Petroleum said, "Everyone has been very co-operative, there is a can do attitude here."
The companies are actively seeking a drilling rig and intend to share it between them – a semi submersible was used during the last drilling round and it is likely that a similar rig will be used in the North Falkland basin.
With oil prices currently coming down the companies see this as helpful in terms of reducing the cost of rigs.
The oil companies' representatives spent their time in the Falklands talking to Government officials, H E the Governor of the Falklands and members of the Islands business community. They also attended a public meeting on the subject of the Environmental Impact Assessment.
Mr Sam Moody, Managing Director Rockhopper Exploration, commented, "We had a very positive reaction at the public meeting. Everyone seemed very pleased with the amount of in depth planning we have undertaken."
The last drilling round was in 1998. Five of the six wells drilled had oil and/or gas shows: one recovered live oil to surface and another encountered significant gas.
According to the Falkland Islands Government Department of Mineral Resources, "Post-mortem analyses suggest that only one play type was drilled. It was on the worst possible migration route, above a regional seal. There is a proven, world-class source rock, plus other petroleum systems. There are numerous untested play concepts, targets and reservoir levels. Exploration in the basin is in its infancy."
By Lisa Johnson – SeAled PR - Stanley