UN Environment Program agreement to ban nine persistent organic pollutants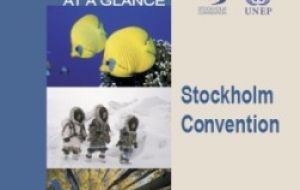 Under of the auspices of the United Nations Environment Program meeting in Geneva 150 governments have agreed to ban the production of nine of the world's most hazardous chemicals.
These substances join a list of 12 other so-called persistent organic pollutants, or POPS, that are prohibited under a 2001 international treaty known as the Stockholm Convention.
UN Environment Program Executive Director Achim Steiner called the agreement historic. He said the nine chemicals that have joined the list of persistent organic pollutants, or POPS, are extremely harmful to the environment and to health.
"Some of these chemicals, on their own, may not show up on the radar of public health. But, in their cumulative and interactive nature in the way that they are absorbed by living organisms, be they plants, animals or human beings, they can develop far-reaching consequences. But just five years after this Convention having come into force, we will have nine new chemicals added to the list of those that the world community agrees we need to control and ultimately get rid of or manage them more effectively" he said.
The newly targeted chemicals include products that are widely used in pesticides and flame-retardants, and in a number of other commercial uses, such as a treatment for head lice.
These nine toxic chemicals will join the Stockholm Convention's original list of 12 Persistent Organic Pollutants, referred to as the "dirty dozen."
The pollutants are especially dangerous because they cross boundaries and travel long distances, from the Equator to the Arctic. They persist in the atmosphere and take many years, often decades, to degrade into less dangerous forms.
They pose great risks to the environment and human health, especially to young people, farmers, pregnant women and the unborn.
The executive secretary of the Stockholm Convention, Donald Cooper, said the pollutant chemicals accumulate in the fatty tissues of humans and animals.
"It bio-accumulates in more than just humans. It bio-accumulates up the food chain. So, it goes from the plankton on up to the squid to the fish to you. So, you are not only exposed to them in the environment, you are eating them…The affects of the chemicals are wide-ranging from the negative impact reproductive systems and mental capacity, growth and intelligence. They cause cancers. So, it is a whole array of these things," he said.
The governments also decided to continue the use of the pesticide DDT on a limited basis to combat malaria. The goal, they say, is to eventually eliminate DDT. But, they recognize that some countries will continue to use the pesticide to protect their citizens from malaria and other diseases.
The nine new chemicals now listed under the Stockholm Convention
- Alpha hexachlorocyclohexane to Annex A;
- Beta hexachlorocyclohexane to Annex A;
Although the intentional use of alpha- and beta-HCH as an insecticide was phased out years ago, these chemicals are still produced as an unintentional by-product of lindane. Approximately 6-10 tons of other isomers including alpha- and beta-HCH result from each ton of lindane produced.
- Hexabromodiphenyl ether and heptabromodiphenyl ether to Annex A;
- Tetrabromodiphenyl ether and pentabromodiphenyl ether to Annex A;
Bromodiphenyl ether congeners are a group of brominated organic substances that inhibit or suppress combustion in organic material, which are used as additive flame retardants. Brominated diphenyl ethers are mainly manufactured as commercial mixtures where several isomers, congeners and small amounts of other substances occur.
- Chlordecone to Annex A;
Chlordecone is a synthetic chlorinated organic compound, which was mainly used as an agricultural pesticide. It was first produced in 1951 and introduced commercially in 1958. Current use or production of the chemical is not reported.
- Hexabromobiphenyl to Annex A;
Hexabromobiphenyl (HBB) is an industrial chemical that was used as a flame retardant, mainly in the 1970s. Based on existing data, HBB is no longer produced and is not used in new or existing products.
- Lindane to Annex A;
Lindane was used as a broad-spectrum insecticide for seed and soil treatment, foliar applications, tree and wood treatment and against ectoparasites in both veterinary and human treatments. Lindane production has decreased rapidly in recent years and only a few countries still produce it.
- Pentachlorobenzene to Annex A and C;
Pentachlorobenzene (PeCB) was used in PCB products, dyestuff carriers, as a fungicide, a flame retardant and a chemical intermediate such as the production of quintozene and it may still be used for this purpose. PeCB is also produced unintentionally during combustion in thermal and industrial processes. It appears as an impurity in products such as solvents or pesticides.
- Perfluorooctane sulfonic acid, its salts and perfluorooctane sulfonyl fluoride to Annex A or B;
PFOS is both intentionally produced and an unintended degradation product of related anthropogenic chemicals. The current intentional use of PFOS is widespread and found in products such as in electric and electronic parts, fire fighting foam, photo imaging, hydraulic fluids and textiles. PFOS are still produced in several countries today.
The 12 initial POPs covered by the Convention include nine pesticides (aldrin, chlordane, DDT, dieldrin, endrin, heptachlor, hexachlorobenzene, mirex and toxaphene); two industrial chemicals (PCBs as well as hexachlorobenzene, also used as a pesticide); and the unintentional by-products, most importantly dioxins and furans.