USDA estimates Argentine 2010 soy crop in 51 million tons, but…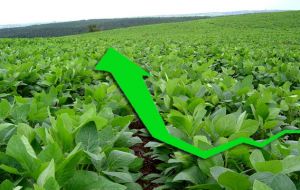 United States Agriculture Department estimates Argentina's soy bean production will reach a record 51 million tons in the 2010 crop. Such a volume would mark a complete turn around from this year's crop which has been estimated anywhere between 34 and 31.7 million tons, or even less.
The estimates are considered "realistic" by the Argentine agro consultant AgriPac. However the USDA "soy-bet" in Argentina could have an impact on future prices, warns Pablo Adreani from AgriPac.
To reach such a production Argentine farmers would have to plant 19 million hectares, a record area for the country.
However in spite of the optimistic outlook, Argentine soy bean processors are more concerned with the current crop and the possibility of idle capacity because of insufficient volumes to grind into oil and flour.
Disappointed with the Argentine government's taxing policy (a 35% levy on soybean exports) Argentine farmers are holding back their soy crops. If this situation persists it could have an impact in international prices since Argentine is the world's leading exporter of soy oil and flour.
If the USDA scenario was to prove correct, AgriPac believes soy bean prices will begin falling next November and by May 2010 could be in the range of 340 US dollars a ton, which is 74 US dollars less compared to current prices.
Furthermore if to the estimated Argentine 2010 record production are added those of United States and Brazil, --the world's three leading producers--, the crop could end with an additional surplus of 28 million tons, but "many things can still happen in a year's time", points out Pablo Adreani.
Earlier this month a controversy erupted in Argentina regarding wheat and the coming 2009 winter crop which apparently could be the smallest in a century. This means it would be insufficient to cover domestic demand, forcing Argentina to import the cereal for the first time in over half a century.
A severe drought and again the government's policy of taxing cereals and oil seeds exports had had dramatic impact for Argentine agriculture.