Worst of global crisis over, but early recovery unlikely, says Krugman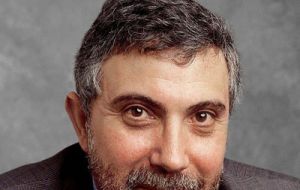 Nobel Prize laureate Paul Krugman said Tuesday in Korea the worst phase of the global economic crisis is over but massive lingering debts make any early recovery unlikely.
"I share the optimism that the worst is maybe over" said Krugman in a speech to an international finance forum in Seoul.
Although various indicators suggest that growth worldwide continues to slow, they also indicate that the pace of the decline has eased, said Krugman who is also a professor of economics at Princeton University.
He added that credit is beginning to flow, bolstered by large, unconventional interventions by the US Federal Reserve and other central banks to limit the stress on financial markets.
Krugman, however, warned that any talk of recovery is premature due to the massive over-leveraging of banks and excessive debt, not just in the financial system, but also among households worldwide.
"We are left with all of that excessive debt and will have an extended process of global de-leveraging taking place," he was quoted as saying, noting that "by no means are we at the end of the story."
The savings rate and housing and business investment, the three pillars of the real economy, would not fully recover in the United States for years to come, he underlined.
Housing investment in the world's largest economy is now below 3% of GDP, half what it was years before the crisis, Krugman said. The figure is normally 4%, a level he does not expect it to reach for a long time, he said.
Business investment will also remain stagnant, Krugman said, even though the US Federal Reserve has cut the key borrowing rate to near zero. Business sentiment is not affected by a discounted rate, he explained.
The economist also commented on the flurry of stimulus packages from the Obama administration, saying they would help, but "at best [only] mitigate the slump." "They are not policies for recovery," he said.
The world could continue to suffer from stagnant demand, just as Japan did during the previous decade, he warned.
"The entire world economy has turned into Japan in the 1990s," he said.
Krugman admitted he has no idea when the crisis, which he called the worst since the Great Depression by far, will end, though he said 2014 is a possibility. Only strong regulation of the financial sector could keep it from recurring, he said.
"Governments have to act as backstop for financial institutions" he said. "We have to in effect extend conventional bank regulations to a very much wider range of institutions. And that will help".