Celibacy is an "imperfect issue" says Paraguayan president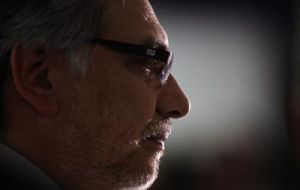 Paraguayan president and former Catholic bishop Fernando Lugo described celibacy as an "imperfect issue" and said the paternity scandal in which he has been involved has not subtracted popular support, rather the contrary.
In a long interview with Argentina's Clarín, the president said it never crossed his mind to resign and revealed he has had "no news from the Vatican" since he admitted last month fathering a child in 2007, when he abandoned the clergy to dedicate himself to politics.
"Celibacy is a personal option, an option of faith which the Latin Catholic Church brings from far back, the 1500… I believe the only one who is perfect is God and all of human persons' actions are imperfect, so celibacy is also an imperfect issue of man or a woman".
When he was asked if the realized to what extent facts about his private life had affected his image, the former bishop said he didn't believe much "in all that was said or published".
"Our reports, particularly from the modest, humble people who voted for us, tell us our image remains intact, at least here in Paraguay", he emphasized although admitting that "the case could have had repercussions in the media".
Lugo, 58, who has been in office just over a year and faces other paternity demands, said he does not consider a contradiction his personal experience and the national responsible paternity campaign which his administration is strongly sponsoring.
"On the contrary, I see it as something positive and so do the people", insisted Lugo who recalled that in Paraguay only 30% recognize paternity, "which means 70% goes unrecognized".
"The fact the president admits a paternity case, having the upper hand in legal aspects and power and influence not to do so, has been seen by many as a act of bravery and courage", he said.
Further on the president said the responsible paternity campaign "was already having positive effects" and mentioned as an example the fact that in recent days a woman is claiming from another former president (Luis Gonzalez Macchi) admittance of having had a child with her".
As to his relations with women following the scandal Lugo was assertive "to be honest, it was tough at the beginning, including the media campaign; many women could have had a different image or idea of what I am, but with the same sincerity and openness, we have very good relations. Nothing has changed".
"I never thought of giving up office, it never crossed my mind. If I have to resign I would have to consult the 834.000 voters who deposited their confidence in me. If a greater number of people do ask for it, then I would consider resigning", said the Paraguayan president.