Buenos Aires residents' infatuated cultural self esteem
Tuesday, May 26th 2009 - 12:06 UTC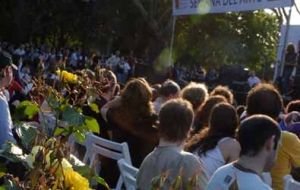 A majority of Buenos Aires City residents consider themselves more enlightened and educated than the rest of Argentines and of Latinamericans with the movies as their main leisure distraction, according to a public opinion poll published in the Sunday edition of the newspaper Perfil.
The poll shows that 63% of Buenos Aires residents or "porteños" (port people) as they are identified in Latinamerica, consider themselves better educated than the rest and 70% define themselves as having a "high cultural level".
The poll was done by consultants Estudios Observatorio Porteño, and included 500 interviews.
However in spite of the cultural dressing of "porteños", and their elevated feeling of having a better education, "only 22% of those polled, regularly visit the cultural centres, programs and events offered by the government of the City of Buenos Aires", which is impressive
Furthermore, "40% never visited or enjoyed a cultural event, while 38% never set foot in a museum and 73% ignore what municipal cultural workshops display or can offer".
The poll does show that 43% admitted having visited sometime a museum, paintings or sculpture exhibition, but the main reason for not becoming regular visitors is simply the lack of time.
Nevertheless 58% have time to visit the movies and far behind, 20%, music concerts and 13.6% to the theatre.
Literature Nobel Laureate Gabriel García Márquez was once asked in a television program on the air to define a Buenos Aires resident or "porteño". A few seconds later the master of Spanish literature looks at the anchor man and tells him: "it's that little ego we all have in our hearts".