Falklands: Argentine war veteran publishes little known stories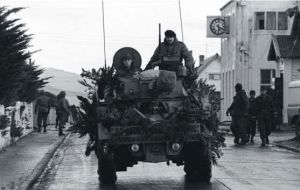 WITH one or two significant exceptions, like the notorious Major Patricio Dowling, our invaders in 1982 were largely anonymous to the citizens of
Stanley, particularly the ordinary soldiers in their helmets and flapping rubber ponchos.
Furthermore, on return, not to the heroes' welcome they might have expected, most either could not find the words to express the shame and horror of what they had gone through, or were expressly forbidden to do so. The Argentine nation, it seemed, wanted them to be swept under the national carpet and to stay there.
Twenty-seven years on, with the emergence of films like 'Iluminados por el Fuego' (Made crazy by fire) and books, like the one written by two of the contestants in this year's Stanley marathon, we have begun to see, perhaps for the first time, that there were people under those forbidding helmets: some good, some bad, some ugly - in fact the same 'pick and mix' of humanity to be found at any football game anywhere in the world. There was even, as Penguin News discovered recently, a train spotter.
Twenty-five year old Second Lieutenant in the Argentine cavalry, Gustavo Adolfo Tamaño, arrived in the Falklands on the evening of April 9, 1982 and, once having emerged from the Hercules aircraft that brought him, drove his Panhard armoured car to Moody Brook, where he was to spend most of the occupation.
He said that the last thing he expected was a railway, but like many a Falkland Islander might, he began searching through the junk he found there, in the hope of finding something useful which he might repair. Two WWII Bren gun carriers caught his eye, as did an old tractor, but he was equally intrigued to discover holding up the roof of a defensive position, some sections of rails and some wooden sleepers.
Admitting in a letter to Penguin News that, "I had some previous knowledge of railways," and noting the size of both rails and sleepers, 2nd Lt Tamaño assumed they were used on a jetty, but it was to be some years before he discovered their true origins. Still in the Argentine army, but now a General Staff Officer, Colonel Tamaño, as he now is, has charge of the Soldiers' Foundation, an organisation that promotes cultural, historical and research activities and runs an FM radio station, a monthly journal, a digital newspaper (www.soldadosdigital.com), and two magazines.
In this capacity, Colonel Tamaño published this year a long and very well-researched article,¡ which he sent to Penguin News, entitled: " Historias poco conocidas: un ferrocarril en las Malvinas" (Little known stories: a railway in the Falkland Islands).
While the story of the Camber Railway and its purpose is reasonably well-known in the Falklands, one aspect of Colonel Tamaño's account which was news to me, was the well-documented assertion that the decision of German Admiral Von Spee to bring his squadron to the Falklands after the Battle of Coronel might have been part of a secret plan to hand the Islands to Argentina.
This plan, Tamaño's sources alleged, was backed up by German naval cargo ships full of defensive materials, which returned to Mar del Plata and two colliers later sunk by the British. There was even a German trans-Atlantic ocean liner, Seydlitz waiting to bring volunteers of German extraction from Chile to help reinforce Stanley's defences, once it had been taken.
On June 12, the young Lieutenant Tamaño, whose sister-inlaw is descended from Samuel Fisher Lafone, after whom Lafonia is named, was wounded by British artillery close to the Battle Monument, which he had earlier admired, without knowing anything at that time about a possible Argentine connection.
He saw it again as his companions were taking him to Stanley hospital and says that this monument, along with Moody Brook and the remains of the Camber Railway have remained as a significant part of his life ever since.
By John Fowler for Penguin News