"Swine flu cruise" with 2.000 passengers cancels trip to Great Barrier Reef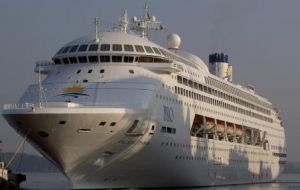 Eighty-three passengers disembarked in Australia Saturday from the "swine flu ship" Pacific Dawn after it was allowed to dock in Brisbane, officials said.
The cruise ship passengers were kept away from the public at the Port of Brisbane and were to be taken by special buses to deliver them to their homes or to the city's airport, the Sydney Morning Herald reported.
Queensland state officials declared an emergency allowing it to overrule the objections of the port's cruise ship terminal operator, who reportedly didn't want to allow P&O Cruises Pacific Dawn, which is operated by Carnival Australia, to dock there after three crew members tested positive for the H1N1 swine flu virus and a handful of passengers exhibited flu-like symptoms.
"It was necessary to ensure the cooperation of the port operator, they were reluctant to allow the vessel to berth here," Health Minister and Deputy Premier Paul Lucas told the Morning Herald.
"They wanted conditions such as special indemnity for themselves that we determined not to be appropriate, and in the situation I declared a public health emergency."
The BBC reported that all 2,000 passengers and several hundred crew members will be screened for swine flu. Pacific Dawn had to abandon a voyage to the Great Barrier Reef after the infections were confirmed. The latest reports said she was heading for Sydney.